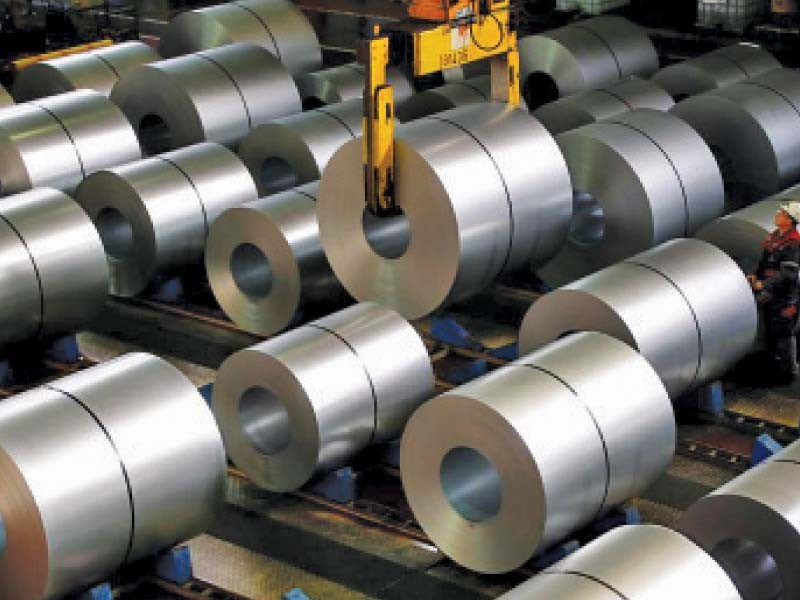 ---
KARACHI:
The country's steel industry is in a dire situation, fearing business closure and widespread job losses as banks have failed to open letters of credit (LCs) for import.
Shortage of raw material, due to the inability to establish LCs, has led to production delays and financial losses for companies, despite recent relief announcements, according to the Pakistan Association of Large Steel Producers (PALSP).
PALSP Secretary General Wajid Bukhari said the steel industry was facing a critical situation as the State Bank of Pakistan (SBP) could not force commercial banks to open LCs, resulting in the closure of numerous steel businesses. He called on the government and the SBP to take immediate action to resolve the crisis and ensure the survival of steel industry.
"Steel is a vital sector for Pakistan's economy, contributing over 5% to the country's GDP and providing jobs for over 200,000 people with annual production capacity of over 5 million tons."
However, the current crisis forced many steel companies to reduce production or even shut down operations, he added. "If there is no steel, approximately 7.5 million jobs will be at stake and there is a possibility of closure of cement and all industries associated with the construction sector within a few weeks," said Bukhari.
He cautioned that Pakistan's steel production could slump by over 50% next year, with devastating consequences for the economy and the ordinary people.
"We need a circular to be issued immediately, allowing manufacturers to import raw material, albeit at curtailed levels," said Bukhari.
Taurus Securities noted that thousands of LCs related to raw material, spares and supplies for the manufacturing sector as well as finished goods and even essential items were awaiting approval, along with thousands of containers awaiting clearance at ports, which were incurring demurrages.
Of late, steel rebar manufacturers had started increasing prices and from early January prices had been raised by about Rs53,000 per ton as they feared a shortage of raw material because of restrictions on the opening of LCs, said JS Global steel sector analyst Waqas Ghani Kukaswadia. Some steel companies also suffered losses because they had to pay demurrages on the containers carrying steel scrap, he said.
"The construction industry, as a whole, will be impacted by lower steel production, which will reduce demand for cement, glass, tiles, PVC, etc." Banks' inability to open LCs was due to a shortage of foreign currency reserves, leading to delay in the import of essential raw material such as steel scrap and additives for the manufacturing of steel products, he added.
"Steel bar prices have surpassed Rs275,000 per ton but if the shortage persists, experts believe that the prices can easily cross Rs300,000 per ton." The industries relying on imported raw material were facing challenges due to the import restrictions placed by the government, said Optimus Capital Management senior research analyst Mehroz Khan.
Operations of the graded steel industry, the manufacturers of steel rebars, have been clogged as the graded steel players solely relied on imported scrap.
Published in The Express Tribune, January 31st, 2023.
Like Business on Facebook, follow @TribuneBiz on Twitter to stay informed and join in the conversation.
COMMENTS
Comments are moderated and generally will be posted if they are on-topic and not abusive.
For more information, please see our Comments FAQ