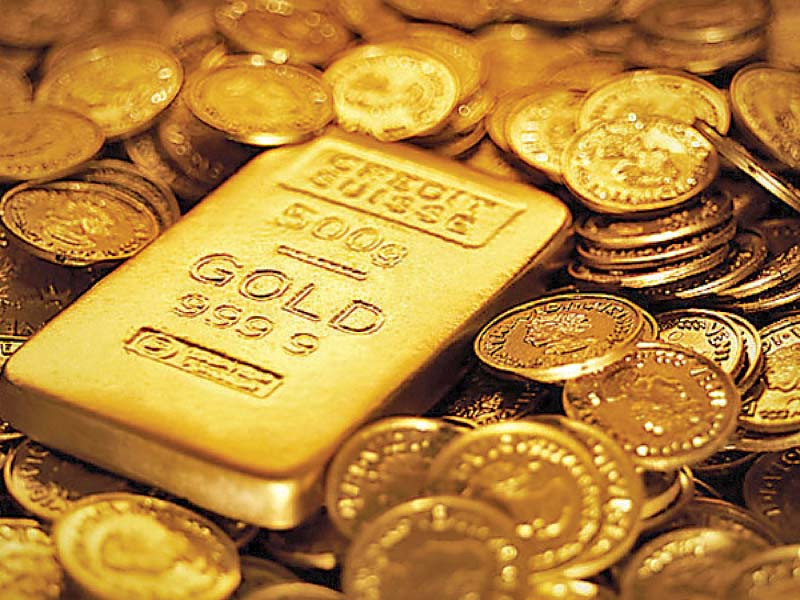 ---
Amid freefall of the Pakistani rupee and reports of revival of stalled talks with the International Monetary Fund (IMF), gold continued to steal the limelight in the local markets, with prices hitting a record high of Rs Rs202,500 per tola on Friday evening.
The prices of per tola and per 10 grams of gold increased by Rs7,000 and Rs6,000 respectively despite a decrease in the price of yellow metal in the international market.
Gold jumped to a record of Rs173,610 per 10 grams in the local bullion market. The jump in gold prices comes as the weakening rupee value pushed investors to the safety of bullion to hedge against deepening economic turmoil in the country.
Read more: Rupee freefalls to 268.3 against USD in interbank market
On Friday, the Pakistani currency plunged 4.78% (or Rs12.87) to a new all-time low of Rs268.30 against the US dollar in the interbank market.
Yesterday, the currency recorded the single largest slump in a day of 9.61% (or Rs24.54) to Rs255.43 against the greenback. Accordingly, the rupee has recorded a cumulative drop of almost 14% (or Rs37.41) in just two days.
The currency saw a steep fall following the government ending its control over the rupee-dollar exchange rate and letting market forces determine it under an IMF condition.
Pakistan is all for reviving the stalled IMF loan programme of $6.5 billion to avert the looming high risk of default on international payments.
COMMENTS
Comments are moderated and generally will be posted if they are on-topic and not abusive.
For more information, please see our Comments FAQ