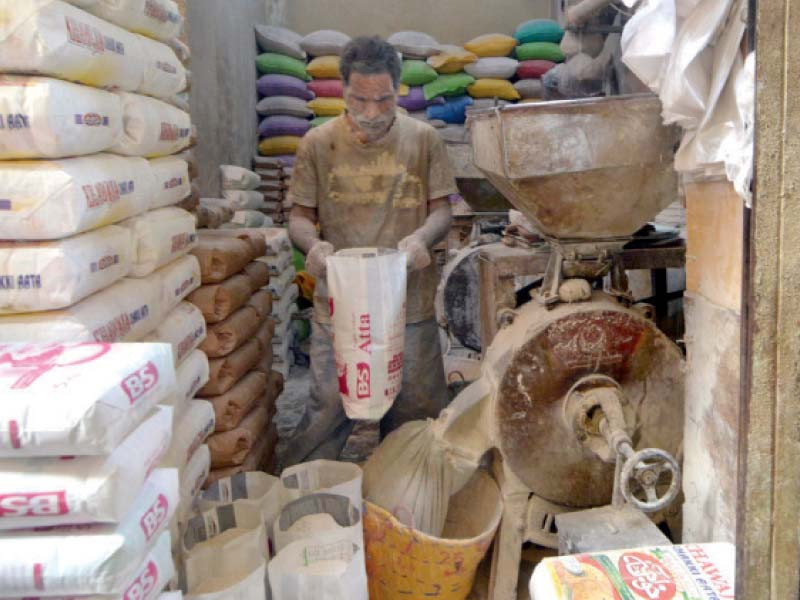 ---
HYDERABAD:
The commissioner of Hyderabad division has warned that any flourmill or chakki found in fraudulent practices of grinding less than the allocated quota of wheat or re-selling the subsidized wheat quota will face strict legal action.
The general public has also been requested to submit their complaints against overpricing to the DCs, ACs and Mukhtiarkars.
As the Sindh government claimed efforts to regulate the rocketing flour prices fail to bear fruit, the government has jacked up the official price of flour from Rs75 per kilogram to as high as Rs113 per kg.
The Commissioner Hyderabad Division Bilal Ahmed Memon in this regard issued a notification for the nine districts of the division where the chakkis and retailers are charging between Rs125 to Rs166 per kg.
The notification fixed the price of branded flour at Rs113 per kg, Rs107 per kg retail, Rs105 per kg at chakkis, ex-mill flour price at Rs95 per kg, ex-mill flour price with transportation at Rs96 per kg and retail price at Rs98 per kg.
Interestingly, the rates notified for branded, retail and chakki flour, which are far higher than the ex-mill rates, will be subject to supply of subsidized wheat at the rate of Rs8,500 per 100 kg to these mills.
It suggests that the actual flour prices may be higher than those which have been notified rates on the grounds that those mills have not been supplied the allocated quota of wheat.
According to the commissioner, a meeting of the Sindh Food Department held on January 20 had fixed the subsidized rate of government supplied wheat at Rs8,500 per 100 kg, which equals to Rs85 per kg.
COMMENTS
Comments are moderated and generally will be posted if they are on-topic and not abusive.
For more information, please see our Comments FAQ