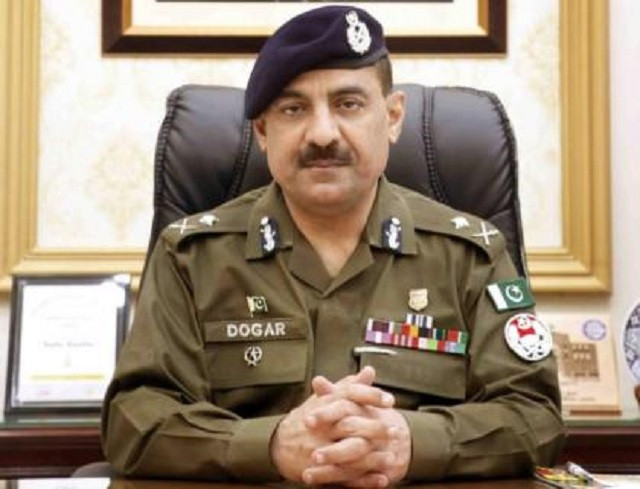 ---
LAHORE:
In a first key appointment on the first day of caretaker chief minister of Punjab, Bilal Siddique Kamyana, a senior police officer praised by the PML-N but dreaded by PTI for crushing its long march to Islamabad in May last year has been appointed as CCPO Lahore.
The incumbent 'PTI's blue-eyed officer' Ghulam Mehmood Dogar has been asked to report to Services and General Administration Department.
Senior police officer Kamyana was not on good terms with the PTI as he is considered close to PML-N.
He became even more despised figure for PTI due to his role in crackdown against PTI activists during its long march to Islamabad in May last year.
Also read: Wazirabad attack JIT members replaced
Hamza Shahbaz as the chief minister of Punjab made the first appointment of Bilal Siddique Kamyana in the Punjab police.
New caretaker chief minister Punjab Mohsin Naqvi on his first day as the provincial chief executive also picked him as the CCPO Lahore.
PTI leadership has been wary of police officers, accused of using force on PTI workers during its 'Haqeqi Azadi' long march in Lahore on May 25.
After Pervaiz Elahi was elected as the chief minister, he replaced Bilal Siddique Kamyana with Ghulam Mehmood Dogar as CCPO Lahore and also initiated action against the cops involved in 'crushing' PTI's long march.
Sources told The Express Tribune that Kamyana has been appointed to deal with PTI's protests against the Election Commission of Pakistan (ECP) decision to appoint Naqvi as interim chief minister.
A notification issued by Services and General Administration Department read, "Mr Ghulam Mehmood Dogar (PSP/BS21) Capital City Police officer Lahore is hereby transferred with immediate effect".
It further read, "Mr Bilal Siddique Kamyana (PSP/BS-21) awaiting posting in Services and General Administration Department is hereby posted as capital city police officer Lahore".
Kamyana belonged to 24th common. He has been appointed CCPO Lahore for the second term.
Also read: Supreme Court reinstates Lahore CCPO Dogar
Earlier, he served as RPO Faisalabad, RPO Sheikhupura, CPO Rawalpindi, DIG Special Protection Unit (SPU), DIG Research and Development Wing.
Before his appointment as CCPO Lahore on Monday, he was serving on a key post in Intelligence Bureau in Lahore.
Separately, the federal government has appointed Dr Usman Anwar as Inspector General of Police (IGP) Punjab.
A notification for his appointment was issued late Monday.
Before his posting as Punjab police chief, Anwar was performing his duties as Additional IG Motorway Police.
He is one of the most professional, honest and dutiful officers of the Pakistan Police Service (PPS).
COMMENTS
Comments are moderated and generally will be posted if they are on-topic and not abusive.
For more information, please see our Comments FAQ