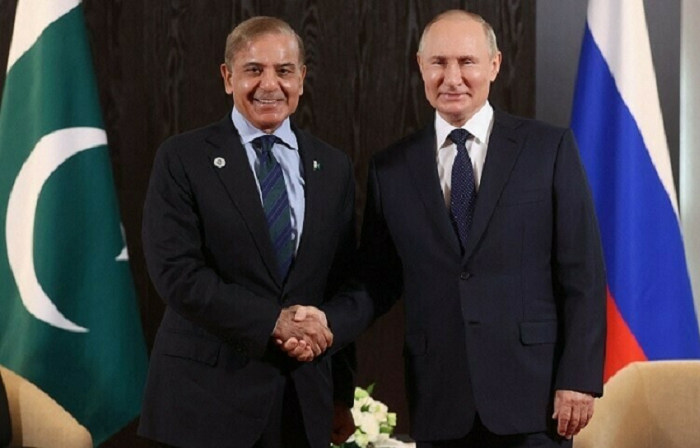 ---
ISLAMABAD:
Prime Minister Shehbaz Sharif has received a special message from Russian President Vladimir Putin, who views Pakistan as Russia's key partner in South Asia and the Islamic world, reiterating his country's keen interest in deepening bilateral relationship as well as increasing trade and investment between the two sides.
The message was delivered by the visiting Russian Energy Minister Nikolay Shulginov, who called on the prime minister in Lahore on Thursday. Shulginov is leading a Russian delegation for the 8th Round of Pakistan-Russia Inter-Governmental Commission meeting scheduled to be held in Islamabad on Friday.
A delegation led by the Russian Energy Minister, Mr Nikolay Shulginov called on Prime Minister Muhammad Shehbaz Sharif in Lahore today.
Welcoming the delegation the Prime Minister highlighted the importance Pakistan attached to its relations with the Russian Federation. pic.twitter.com/8Itj7yp65R

— Prime Minister's Office (@PakPMO) January 19, 2023
During the meeting, both the sides discussed the purchase of petroleum products from Russia on discounted rates, besides mulling over the supply of oil and gas from Russia to Pakistan on a long-term basis as well as reviewing the gas pipeline project.
Also read: Breakthrough in energy talks with Russia unlikely
Through the special message, the Russian energy minister conveyed that President Putin referred to "Pakistan as Russia's important partner in South Asia and the Islamic World [and] reiterated Russia's strong interest to deepen the bilateral relationship".
Welcoming the delegation, Shehbaz highlighted the importance Pakistan attached to its relations with the Russian Federation. Shehbaz recalled his meeting with President Putin in Samarkand in September 2022 and said that the meeting had reached important decisions to further strengthen Pakistan-Russia relations.
Prime Minister Shehbaz also noted with satisfaction "the keen desire on both the sides to upgrade the bilateral cooperation in trade, investment and economic matters". The Russian energy minister reciprocated the prime minister's sentiments.
During the meeting, both sides agreed on the importance of energy sector for the development of bilateral economic and trade relations. In this regard, "views were exchanged on supplying oil and gas from Russia to Pakistan on a long term basis". Matters related to gas pipelines were also reviewed.
In December, a Pakistani delegation had visited Russia. During the visit, Russia confirmed the availability of 100,000 barrels per day crude oil supply to Pakistan, and it was reported that a delegation from Moscow would visit Islamabad in January to set terms for a deal, including rates and mode of payment.
Prior to that, Defence Minister Khawaja Asif had said that besides gas, Russia had also offered to provide wheat to Pakistan in the wake of catastrophic floods. "Russia has said that it can provide us wheat because in the coming days as we may have shortages […]," Asif had said at a press conference.
Also read: Putin offers Shehbaz gas to warm ties
The minister's statements had come a day after Prime Minister Shehbaz and his delegation returned from the Shanghai Cooperation Organisation (SCO) summit in Uzbekistan. However, despite being in talks for a long time, both sides have yet to formally enter into an agreement.
Oil and energy make up the largest portion of Pakistan's imports bill and Pakistan is looking toward Russia for the import of petroleum products on discounted rate. However, Moscow and Islamabad have also long been discussing different proposals with little success.
During the meeting with Russian energy minister, the prime minister provided guidance for the work of 8th Round of inter-governmental meeting.
Federal ministers Ayaz Sadiq and Syed Naveed Qamar, minister of state Musadik Malik and Special Assistant to Prime Minister Tariq Fatimi were also present in the meeting.
COMMENTS
Comments are moderated and generally will be posted if they are on-topic and not abusive.
For more information, please see our Comments FAQ