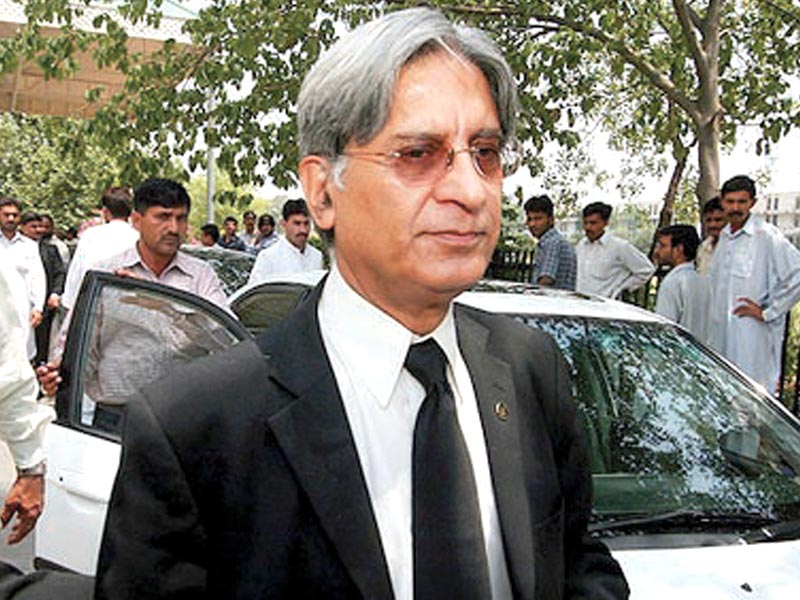 ---
LAHORE:
Pakistan People's Party (PPP) leader Aitzaz Ahsan on Wednesday said that Pakistan Muslim League-Nawaz (PML-N) supremo Nawaz Sharif could not return to Pakistan due to the current political situation as well as allegations that Nawaz was involved in the murder of senior journalist Arshad Sharif and the alleged assassination attempt against former premier Imran Khan.
Talking to media personnel outside the Lahore High Court (LHC), Aitzaz stated that London police would also undoubtedly probe these allegations.
He furthered that neither London nor Pakistan's atmosphere was favourable for Nawaz.
Aitzaz maintained that the PML-N appeared confused regarding decisions to counter the actions of the Pakistan Tehreek-e Insaf (PTI). Quoting the recent approval of 35 resignations of PTI's MNAs by the speaker National Assembly, he said it seemed as though the PML-N was worried, confused and afraid of Imran's popularity.
Read PPP throws weight behind PM in case of no-trust move
The PPP leader further said that he did not see general elections in the centre and provinces at the same time.
He stated that Imran is only left with the option of coming out on the road again after the approval of PTI's resignations, as there was limited scope for the party within the National Assembly.
Commenting on the local body elections in Karachi, he said that the PPP succeeded while other political parties stood in good position.
He added that only the PML-N did not achieve a significant victory in Karachi's election which suggested that they were losing their vote bank with every passing day.
COMMENTS
Comments are moderated and generally will be posted if they are on-topic and not abusive.
For more information, please see our Comments FAQ