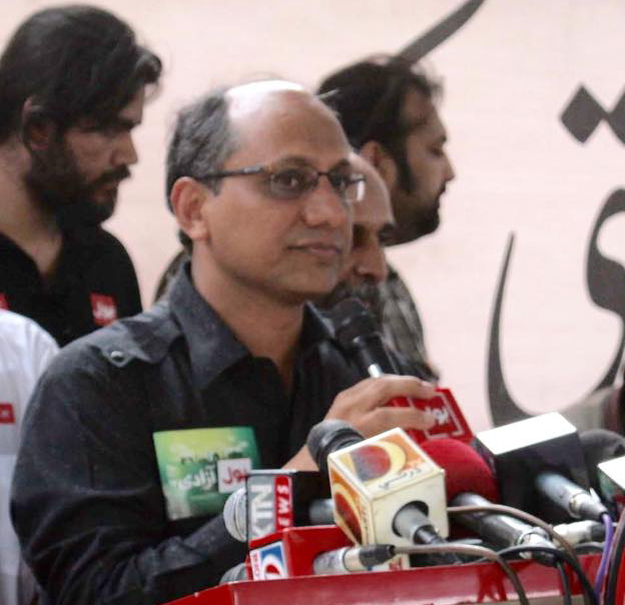 ---
KARACHI:
Sindh Labour and Human Resources Minister Saeed Ghani on Wednesday said that the Pakistan Peoples Party (PPP) was willing to work together with Jamaat-e-Islami (JI) to settle on a "formula" for deciding the coveted seat of Karachi's mayor.
Saeed Ghani, who is also the PPP Karachi president, told reporters that his party was willing to prioritise talks with the JI.
While the PPP emerged as the major gainer in the second round of local bodies elections in Sindh, in Karachi, no party emerged clear winner to elect the next mayor of the metropolis, according to the results released by the election commission.
Read JI accuses PPP of stealing its mandate in LG polls
There are 246 union committees (UCs) in Karachi, however, the election was held in 235 UCs due to the death of 11 candidates. The election of the mayor requires 124 votes.
The results showed the PPP won 93 UCs, JI bagged 86 UCs, and the Pakistan Tehreek-e-Insaf (PTI) clinched 40. The Pakistan Muslim League-Nawaz (PML-N) won in seven, the Jamiat Ulema-e-Islam-Fazl (JUI-F) and the Independents won in three each, the Tehreek-e-Labbaik Pakistan (TLP) in two and Mohajir Qaumi Movement-Haqiqi (MQM) in one.
Reflecting on the results in an earlier statement, Ghani had said that "it is not the PPP's victory but the success of Jamaat-e-Islami in Karachi's polls, which is surprising".
Expressing his surprise over JI's win, the minister said that "I am taken aback to see the jamaat win, these were our constituencies where our MNAs and MPAs have regularly won seats."
However, he added that "a lot of noise is created wherever they lose" and rejected JI's Hafiz Naeem's claims of rigging the local body polls.
Read More In major setback, PTI's nominee for Karachi mayor slot loses to PPP
"My brother did not win after recounting," he clarified, "but instead he had won in one UC and lost in another".
The PPP leader urged the JI not to "cause trouble for the city" and advised the leaders to refrain from "going on TV demanding the mayor's seat".
"We are willing to decide the formula for electing Karachi mayor through consensus," he stressed.
"Many things have come to our notice," he added, "if we begin to reveal the truth then you will not be able to bear it".
"I urge the JI to go and check the boxes themselves," he continued, "winning on Facebook is not enough, one also has to win the votes".
COMMENTS
Comments are moderated and generally will be posted if they are on-topic and not abusive.
For more information, please see our Comments FAQ