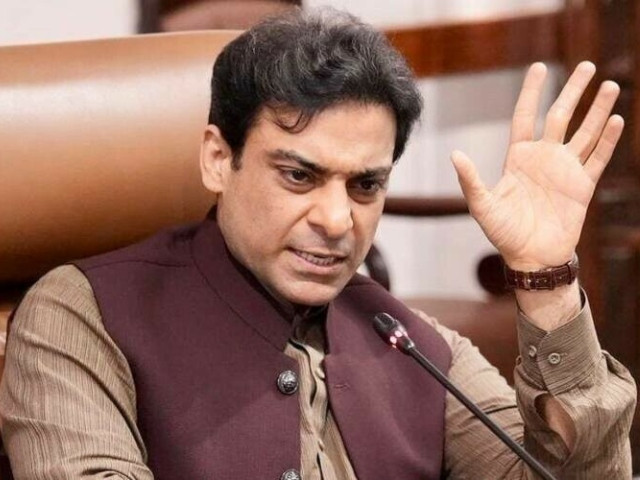 ---
PML-N leader and Leader of Opposition in Punjab Assembly Hamza Shehbaz on Tuesday proposed two names for interim chief minister of the province.
The PML-N leader forwarded two names of Syed Mohsin Akhtar Naqvi and Ahad Khan Cheema to Governor Balighur Rehman for the appointment of Punjab interim chief minister.
Hamza also rejected the names suggested by outgoing CM Pervaiz Elahi for the post.
The development came after Prime Minister Shehbaz Sharif earlier today held consultations with top leaders of Pakistan Democratic Movement (PDM) on caretaker Punjab chief minister.
Pakistan Muslim League-Quaid (PML-Q) leader Chaudhry Pervaiz Elahi on Monday officially proposed three potential candidates for the post of Punjab caretaker chief minister to Governor Balighur Rehman.
Also read: Process for interim Punjab set-up set in motion
The chief minister's son Moonis Elahi shared the letter on his official Twitter handle.
In pursuance of Article 224(1A) of the Constitution, the names of Sardar Ahmad Nawaz Sukhera, Nasir Mahmood Khosa and Muhammad Naseer Khan were proposed for appointment as caretaker chief minister of Punjab.
Elahi unveiled the names of these candidates a day earlier, saying that "Imran Khan has suggested three names for interim chief minister".
The PML-Q and Pakistan Tehreek-e-Insaf (PTI) agreed on these potential candidates.
Elahi said one of the names suggested by the PTI was likely to be finalised for caretaker CM, adding that the names would be sent to the governor.
Following the dissolution of the Punjab Assembly, Governor Rehman sent letters to CM Elahi and Leader of the Opposition Hamza Shehbaz for the appointment of a unanimous caretaker chief minister.
In the letter, the chief minister and the opposition leader were asked to suggest names for the interim chief minister within three days by January 17 (today).
COMMENTS
Comments are moderated and generally will be posted if they are on-topic and not abusive.
For more information, please see our Comments FAQ