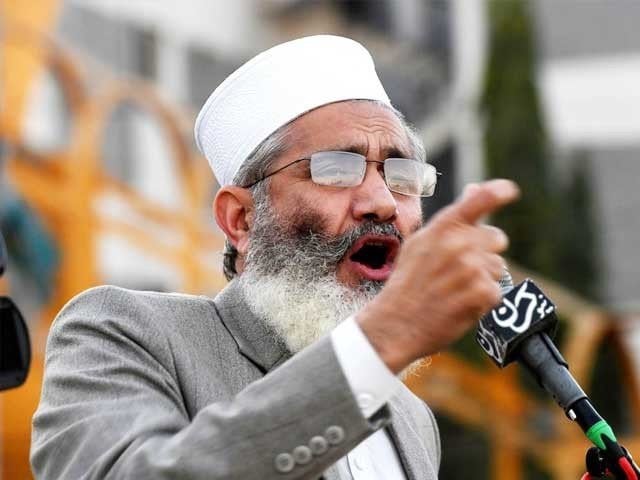 ---
As rigging allegations and an unusual delay in results marred the second phase of local body elections in Karachi, Ameer Jamaat-e-Islami (JI) Sirajul Haq on Monday announced protests in all major cities of the country.
The Election Commission of Pakistan (ECP) on Monday evening finally announced the results of all 235 seats of Karachi division. According to the results, Pakistan Peoples Party (PPP) has emerged victorious with 93 seats while JI managed to secure 86.
Pakistan Tehreek-e-Insaf (PTI) could only manage 40 seats while Pakistan Muslim League-Nawaz (PML-N) got seven.
Read more: PPP emerges as largest party with 93 seats, JI second with 86 in Karachi LB polls
"Currently, JI has emerged as the leading party during the local body elections," Siraj said in a statement.
He said that the results shown by party's polling agents clearly show that JI has secured the majority.
"We believe that the election results of JI as well as other political parties have been altered. I appeal to the masses and workers to stage protests in major cities of the country," he added.
Siraj has also called an emergency meeting of the party on Tuesday in which future strategy about the local body elections in Karachi would be discussed.
Also read: Karachi LG polls: JI cries foul over results delay
JI Karachi leader and mayoral candidate Hafiz Naeemur Rehman claimed that election results were being changed due to rigging and that the party was not provided Forms 11 and 12. He added that the deputy commissioner had called for a recount.
Rehman said that if the results were tampered with, he would stage a sit-in against the theft of Karachi's mandate.
In Hyderabad, according to the unofficial results, the PPP seems to have swept the LG polls in all the nine districts of the Hyderabad Division except for a couple of upsets at the hands of the PTI and the Grand Democratic Alliance (GDA).
COMMENTS
Comments are moderated and generally will be posted if they are on-topic and not abusive.
For more information, please see our Comments FAQ