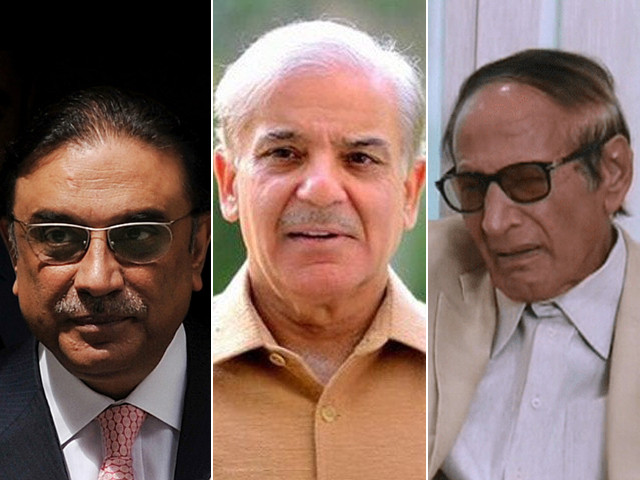 ---
LAHORE:
Pakistan Muslim League-Quaid (PML-Q) leader Chaudhry Shujaat Hussain and Pakistan Peoples Party (PPP) Co-chairman Asif Zardari at on Sunday discussed at length possible options to avert a defeat in the lower house of parliament in case Prime Minister Shehbaz Sharif took a vote of confidence.
Shujaat called on Zardari at Bilawal House on Sunday night.
Following Pakistan Tahreek-e-Insaf (PTI) Chairman Imran Khan's announcement to give sleepless nights to Prime Minister Shehbaz by asking him to take a vote of confidence, Pakistan Democratic Movement (PDM) leadership have started deliberations to avoid another defeat after the Punjab Assembly loss.
During an hour-long meeting between the senior PML-Q and PPP leaders, current political situations and possible options to avert defeat in the lower house in case of no-trust vote were discussed at length. Both leaders also discussed the rapidly changing political situation and the matter pertaining to general election.
Both leaders underscored that the country was passing through a critical junction owing to economic challenges for which everyone would have to play their role to put the economy back on track.
COMMENTS
Comments are moderated and generally will be posted if they are on-topic and not abusive.
For more information, please see our Comments FAQ