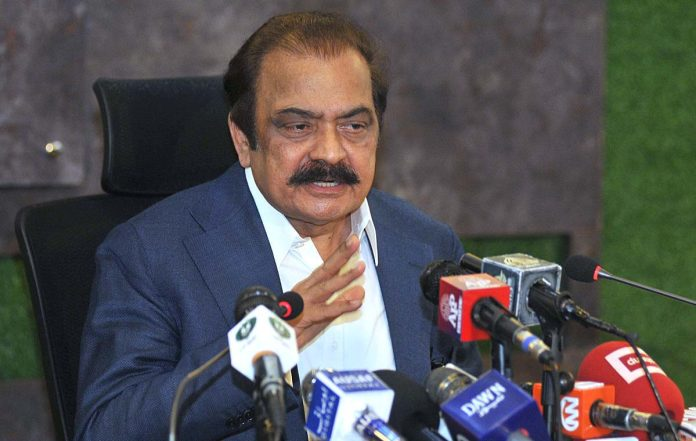 ---
FAISALABAD:
Interior Minister Rana Sanaullah Khan on Saturday said that the PTI commitments with the International Monetary Fund (IMF) had sandwiched Pakistan between the devil and the deep blue sea.
"If the present government tries to fulfil the IMF's harsh conditions, it jacks up inflation and price spiral coupled with an economic setback," the minister said while addressing the inaugural ceremony of a new NADRA Center near Painsara on Jhang Road.
"If we back out from these conditionalities, then our economic survival will become next to impossible and even our friendly countries cannot extend financial help to us," he added
He, however, said the present government was trying its optimum best to control the situation perpetrated due to harsh conditions of the IMF.
Sanaullah said that the PTI government first inked documents with the IMF and then backed out from its commitments which landed Pakistan into a very alarming situation.
He said that some elements were intentionally creating uncertainty for their ulterior political motives. Their propaganda was practically double-edged sword as they wanted to create problems for the sitting government, in addition to pushing Pakistan towards bankruptcy.
Also read: PM Shehbaz affirms govt resolve to complete IMF terms
"However, Prime Minister Shehbaz Sharif along with his economic team is making sincere efforts to overcome this situation and hopefully the people will hear a good news very soon near future," he added.
Without naming Imran Khan, the minister termed him an absolute liar and said, "He was blaming that I have murdered 20 people. He was enjoying full powers in federal and provincial governments. He was in a position to prove myself guilty of these allegations but he used it just as a tool of political maligning and hence he was forced to get registered yet another false heroin case against me".
"This person is hoodwinking the masses especially the youth. He is promoting culture of abusive language, hate and obscenity. The people must reject him with their vote power as the country may face any mishap if he usurped the power again through illegal means," the minister added.
The minister said that the Wazirabad attack was a personal deed of a person who was apprehended then and there and he also confessed the crime but PTI was making false propaganda of three culprits only to keep this case alive for their political maneuvering.
COMMENTS
Comments are moderated and generally will be posted if they are on-topic and not abusive.
For more information, please see our Comments FAQ