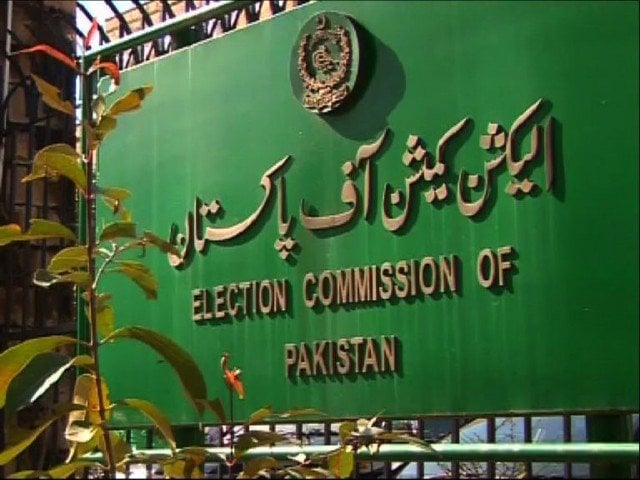 ---
ISLAMABAD:
The Election Commission of Pakistan (ECP) on Friday issued notice to Pakistan Tehreek-e-Insaf (PTI) over amendments in its constitution and directed the party to produce a copy of the amended constitution.
Sources privy to the development said that the PTI changed the party structure after an amendment in the party constitution, laying down a formal procedure for issuing party tickets.
The electoral watchdog took the decision in a meeting held to discuss the party's chairmanship.
Last week, the ECP took steps to initiate the process to remove Imran Khan as chairman of the PTI in light of the election watchdog's verdict in the Toshakhana case, which disqualified the former premier under Article 63(1)(p) for making "false statements and incorrect declaration".
A notice was issued to the former prime minister and the case has been fixed for hearing on December 13. However, the PTI asserted that the law does not place any bar on a convict from becoming an office-bearer of a political party.
According to Section 5 (1) of the now defunct Political Parties Order (PPO) 2002, "Every citizen… shall have the right to form or be a member of a political party or be otherwise associated with a political party or take part in political activities or be elected as an office-bearer of a political party: provided that a person shall not be appointed or serve as an office-bearer of a political party if he is not qualified to be, or is disqualified from being, elected or chosen as a member of the Majlis-e-Shoora (Parliament) under Article 63 of the Constitution of the Islamic Republic of Pakistan or under any other law for the time being in force."
It may be noted here that a petition seeking the removal of Imran Khan as the PTI chairman following his disqualification is already pending before the Lahore High Court (LHC).
The petition said that according to the Representation of the People Act 1976 and Political Parties Order (PPO) 2002, it was a legal and constitutional requirement for party officeholders to be qualified in accordance with Articles 62 and 63 of the Constitution.
It said that after Imran's disqualification from the NA-95 constituency it was "just" for him to be de-notified as the PTI chairman and order should be issued to this effect.
COMMENTS
Comments are moderated and generally will be posted if they are on-topic and not abusive.
For more information, please see our Comments FAQ