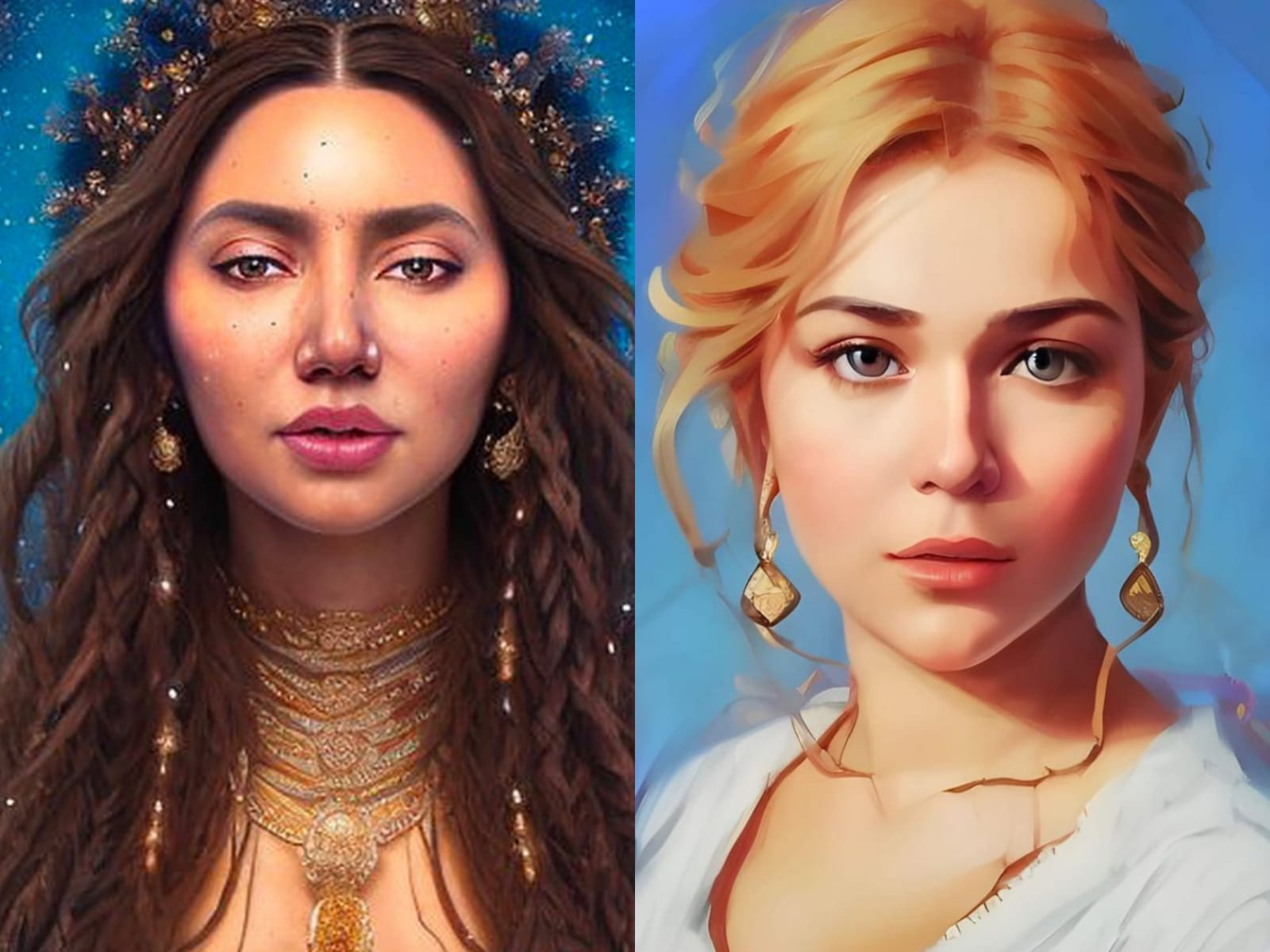 ---
The latest trend after Spotify Wrapped on the internet is the one where you can easily transform yourself into a Disney princess, an intergalactic space alien, or even a superhero!
Lensa, a new photo-creativity app developed by Prisma.ai, transforms your picture into a dreamy avatar at the tip of your fingers using artificial intelligence (AI).
Even though the app is paid and requires money to potrait-ise your pictures, celebrities and people alike are already obsessed with the new trend. From the likes of Mahira Khan to Humaima Malick and Ali Zafar, local celebrities have all jumped on the Lensa bandwagon to see the AI versions of their favourite photos and we're loving it!

Mahira Khan

Mahira Khan was the first one to try her hand at the AI app. She transformed her Mukhoo Jattni look into a vintage princess with her braided locks covered in gold dust and her neck accessorised with chunky gold jewellery. Her photo dump also included some pictures of her in a braided ponytail in an off-shoulder dress and a close-up of the same.

Ali Zafar
The Jhoom singer tried a more Gen Z magic avatar for himself. He posted a modified picture of himself with pink hair, green eyes and a clean shaved pokerface.

Humaima Malick

In a mood for more artistic variations than royal princess looks, The Legend of Maula Jatt actor uploaded a series of colourful painting-looking images on Instagram on Thursday with the caption, "tasveer," with a kiss emoji. The images saw her hair in soft locks and a messy bun in a series of pictures.


She also posted another Lensa picture in a white shirt paired with golden dangling earrings against Doris Day's Dream a Little Dream of Me song playing in the background. "Dream I am, and that a beautiful one," wrote the star.

Amar Khan
"Artificial Intelligence tends to paint some fun portraits," wrote the Dum Mastam writer-actor Amar Khan. She posted a series of pictures too with herself in a floral princess avatar, a superhero one, an Egyptian princess and more.

How does the AI app work?

It's very simple. Once you sign up with the app, you upload at least 10 images of yourself. The more images you upload, the more varied your photos will look, and the app encourages users to include as many facial features, expressions, and angles as possible.

From there, it takes a bit of time for the software to generate the avatars. It's a quick way of creating live images into digital portraits and people are having a lot of fun experimenting with alter looks.
COMMENTS
Comments are moderated and generally will be posted if they are on-topic and not abusive.
For more information, please see our Comments FAQ