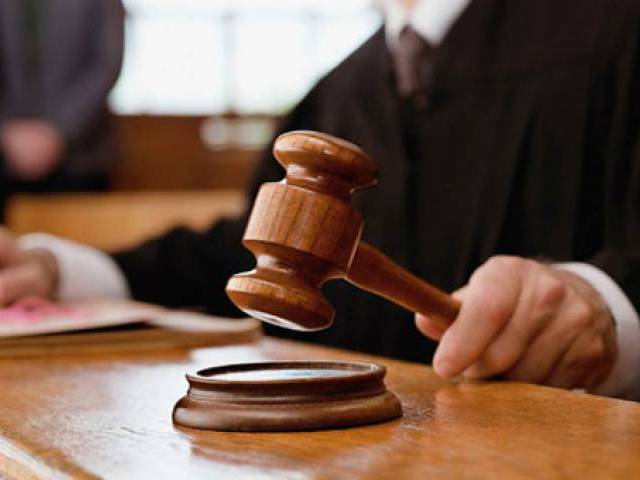 ---
LAHORE:
The strike by the legal fraternity, protesting against the three months' imprisonment awarded by the Lahore High Court's (LHC) most senior judge to a lawyer of the Punjab Bar Council over wearing a gown in the courtroom, has entered into its fourth day.
Rounds of negotiation between the Punjab Bar Council and the bench bore no fruit and the deadlock persists.
Over 1,100 police officials were deployed at 25 points of the LHC, while the security at possible routes leading to the court of senior Puisne Judge Justice Malik Shahzad Ahmad Khan was beefed up to avoid any untoward incident.
On December 2, Justice Shahzad awarded a three-month imprisonment to member Punjab Bar Council Rana Muhammad Asif and suspended his license for six months over disrespecting, and pressurizing the court through other lawyers and halting its work.
The matter erupted when advocate Rana Asif, standing in Justice Malik Shahzad's court, started to wear a gown and Justice Shahzad directed him to go outside for wearing it on the premises.
Read: Legal fraternity's strike enters third day
The judge further observed that the courtroom is not meant for changing or wearing the clothes/uniform of any person/advocate.
A four-page order from Justice Shahzad stated that the lawyer started shouting at the court instead of paying any attention to the court's view.
During the strike, lawyers chanted slogans in favour of their colleague. Talking to The Express Tribune, Lahore Bar Association (LBA)'s President Rao Sami Ullah Khan expressed his displeasure over a round of negotiation held with Justice Shahzad and said "our few members went to meet with Justice Shahzad but he met with few members and denied to meet all members".
He added that Justice Shahzad allowed the president LHC Bar Association and vice chairman Punjab Bar Council to meet with him but denied meeting with Lahore Bar Association (LBA)'s President and Chairman Executive Punjab Bar Council Malik Farooq Khokhar.
At this, those who were allowed to meet also denied meeting with Justice Shahzad.
Sharing the bar's strategy, Sami said they are planning to call a convention at the Punjab level and will launch a movement against the contempt of court section and section 7 of the Anti-Terrorism Act, under which the lawyers are being humiliated.
The LBA will also stage protests and rallies at the district level against such conduct, he vowed.
Meanwhile, Rana Asif said that he had not committed any contempt of court, adding he was "very humble" and "has a great respect for courts".
COMMENTS
Comments are moderated and generally will be posted if they are on-topic and not abusive.
For more information, please see our Comments FAQ