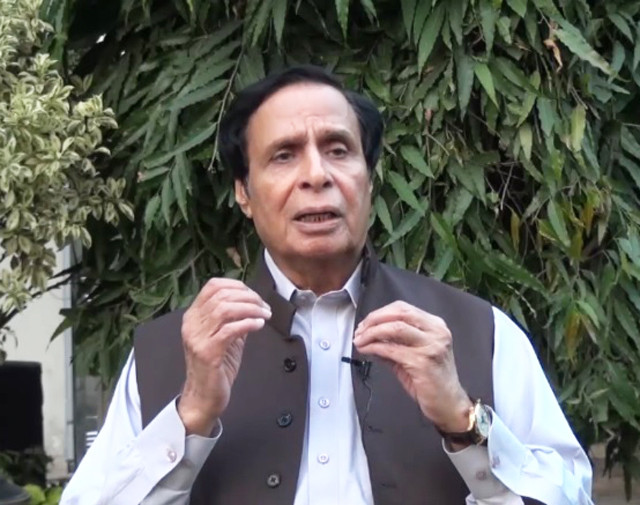 ---
Punjab Chief Minister Chaudhry Pervaiz Elahi has endorsed his son Moonis Elahi's statement that former army chief Gen (retd) Qamar Javed Bajwa suggested that his PML-Q party should support PTI during opposition's no-confidence motion against Imran Khan in March this year.
In an interview with a local TV channel on Sunday, CM Elahi said Gen Bajwa told him that going with Imran was a better option after he shared his reservations about joining PDM alliance as he "did not trust Sharif family".
Elahi said he was wary of accepting the then opposition led by Sharif family's offer to become Punjab chief minister in return for supporting no-trust motion against Imran Khan.
"I knew that they [Sharif] would not let me to continue [as chief minister] as they have betrayed me in the past," he remarked.
The PML-Q leader said his son Moonis played a major role in convincing him to support PTI instead of joining Pakistan Democratic Movement alliance.
Also read: Imran accuses Gen Bajwa of playing 'double game' against his govt
Moreover, Elahi said the then army chief, Gen (retd) Bajwa showed "him the right path" to support PTI.
Speaking on a private TV channel earlier this week, Moonis Elahi revealed that "there has not been any contact with the new military leadership" however, he added that the former COAS Gen (retd) Bajwa "had turned the tides in favour of PTI".
"This is my point of contention with PTI and anyone who calls him a traitor," he continued, "he was seen as perfectly fine when he was going in their support and now he is called a turncoat".
"I have offered the PTI to come on TV and prove to me that he [Bajwa] is a traitor and I will show you just how much the man did for you."
He went on to claim that there was "no doubt" about it that "the man had gone all out for you [PTI]"; but the minute he "removed himself then he became the bad guy".
"If he was the bad guy, he would have never told me to support Imran Khan," Moonis said.
COMMENTS
Comments are moderated and generally will be posted if they are on-topic and not abusive.
For more information, please see our Comments FAQ