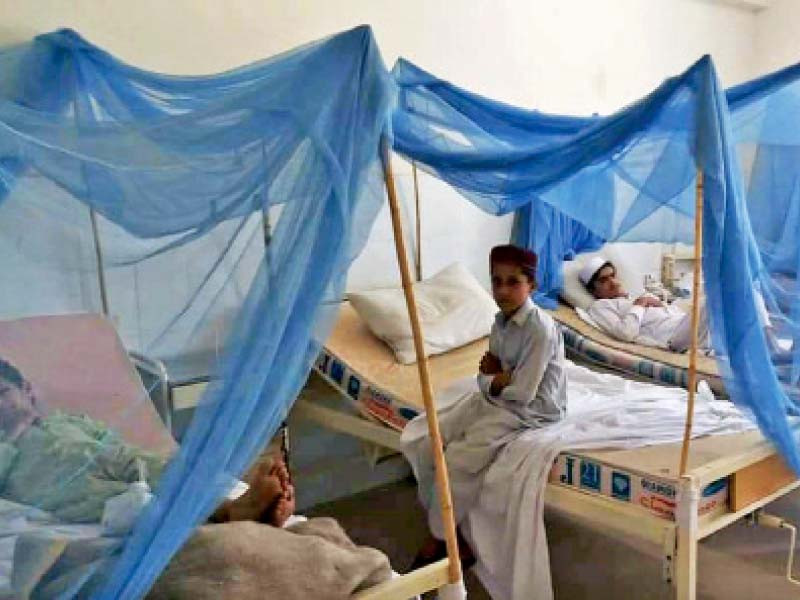 ---
LAHORE:
Dengue fever claimed more lives in Punjab during November as compared to the total death toll of the previous 10 months despite a drastic decrease in the number of patients.
Official data shows that 27 people died due to dengue fever across the province during the past month, raising the death toll during the ongoing year to 45.
However, there were also indications of an improvement in the overall situation as the number of new cases of the disease dropped to 3,768 in November from 8,500 in October.
The situation in the hospitals also improved substantially as 355 patients were undergoing treatment after admission to the facilities in the province on Wednesday as compared to 1,067 at the end of the previous month.
Of the total 355 patients, as many as 178 are admitted to hospitals in Punjab. The disease has cost the province 35 lives during the past two months.
Speaking to The Express Tribune, a senior official of the provincial primary and secondary healthcare department termed the high death toll alarming.
"The worse situation started two months ago when the spread of the disease reached its peak in the big cities of Punjab, including Lahore, Rawalpindi, Gujranwala, Faisalabad and Multan. The dengue wards of hospitals in these districts were full of patients," he said.
The official said the most challenging situation was faced by Lahore in October and the Punjab government faced criticism over failing to keep the citizens safe from the fever. The number of patients suffering from the fever has decreased during the past month but the monthly death toll has not reduced.
Punjab Primary and Secondary Healthcare Secretary Irshad Ahmad said the government was continuing its anti-dengue activities across the province.
He said outdoor as well as indoor spots at high risk of hosting dengue mosquito larvae were being checked.
The official appealed to the people to cooperate with the government to cope with the dengue situation and the religious scholars to play their role in guiding the people about protecting themselves from the fever.
According to the department, the death toll from dengue fever during the ongoing year includes 22 in Lahore, 12 in Rawalpindi, four in Gujranwala, three in Multan, two in Faisalabad and one each in the Gujrat and Sahiwal districts.
The fever has reached almost all the districts but the provincial capital accounts for 8,060 of the 18,650 dengue cases recorded in the province so far this year.
Published in The Express Tribune, December 2nd, 2022.
COMMENTS
Comments are moderated and generally will be posted if they are on-topic and not abusive.
For more information, please see our Comments FAQ