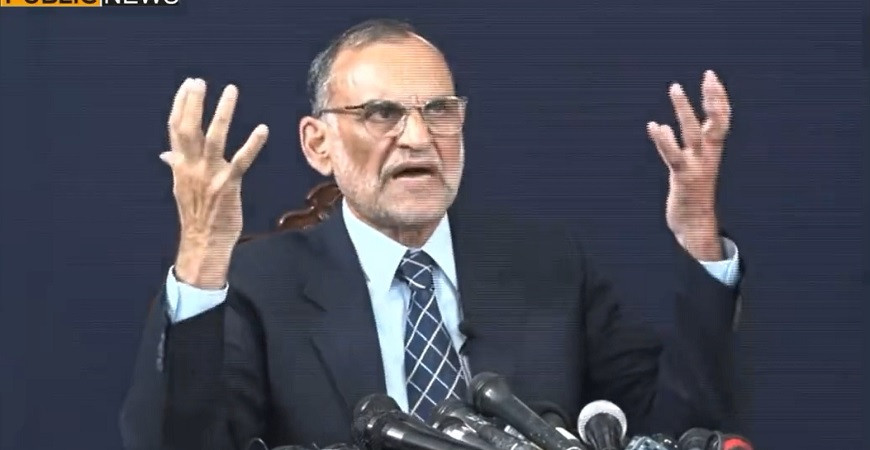 ---
KARACHI:
Police in the metropolitan city have registered yet another FIR against PTI Senator Azam Swati for his alleged derogatory tweets against Qamar Javed Bajwa, who retired as army chief on Tuesday.
The number of cases registered in Karachi against the PTI senator, who was allegedly tortured and striped in custody, has risen to seven.
The latest FIR was registered at Aziz Bhatti police station on the complaint of a citizen, named Chaudhry Mazhar Iqbal, a resident of Golden Town, under Sections 505, 131, 153A, 501 and 504 of Pakistan Peal Code.
In the FIR, the complainant states that he came for shopping to a departmental store located in Gulshan-eIqbal, Nipa Chowrangi, Block 10, at around 3:00pm on Monday.
"While checking WhatsApp messages on my mobile phone, I saw Senator Azam Khan Swati's tweet, which was very derogatory about the Chief of the Army Staff of Pakistan and also against the dutiful officers of our respected institutions," the complainant stated.
Swati's tweets made all the officers of the honourable institutions target of ridicule in the whole world at a time when "our soldiers are sacrificing their lives on the borders for the country every day", he furthered.
COMMENTS
Comments are moderated and generally will be posted if they are on-topic and not abusive.
For more information, please see our Comments FAQ