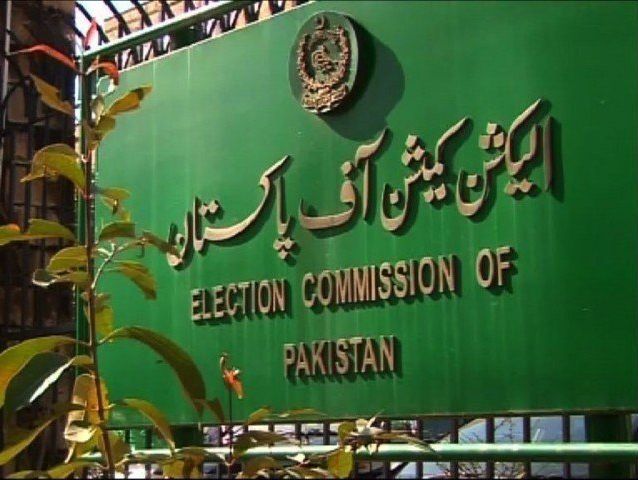 ---
ISLAMABAD:
The Election Commission of Pakistan (ECP) on Monday said that in case of dissolution of provincial assemblies, elections will be held in the respective provinces and not for the National Assembly.
The top polling supervisory body maintained that in the event of mass resignations in Punjab and Khyber Pakhtunkhwa (K-P) assemblies, the by-polls will be held within 60 days.
The statement has come after PTI chief Imran Khan on Saturday announced the party's decision to resign from provincial assemblies, most notably in Punjab and K-P where the party is in government, in a bid to exert pressure on the federal government to announce an early election date.
ECP Spokesperson Ibrahim Shinwari, in a statement, clarified that if the provincial assemblies were to be dissolved, elections will only be carried out on the seats of those particular assemblies rather than the National Assembly seats.
Read PML-N calls meeting to discuss available options
The electoral watchdog also acknowledged the difficulties that entail conducting both by-polls and general elections in the same year but stressed that the commission was legally bound to carry out the task.
"Although it is difficult to hold provincial elections and national elections in the same year, we are bound by the law," the ECP officials added.
The ECP officials also revealed that for each provincial poll, an estimated cost of Rs50 to Rs70 million will be incurred, with a total projected cost of elections in Punjab and K-P amounting to Rs22.5 billion.
It may be noted here that in case the assemblies in the two provinces are dissolved, the ECP will be responsible for administering polls in over 400 constituencies.
"Delimitations of constituencies and holding local-body polls was also a difficult task but we still did it," Shinwari said. "We will hold the by-polls according to the law even if it will be difficult to do so."
Read More PTI options: Has Imran got it right or is he making a mistake?
"The cost of by-elections in each constituency will be Rs50 to 70 million," he added.
Senior leaders of the PTI are expected to converge on Monday (today) to discuss the date for the dissolution of the K-P and Punjab assemblies.
The government ministers, however, see Imran's announcement of dissolving or abandoning the assemblies as a face-saving attempt when he could not muster "revolution crowds".
Interior Minister Rana Sanaullah, on the other hand, said that it was not possible for PTI to dissolve legislative assemblies including ones in Punjab and Khyber-Pakhtunkhwa, saying no-trust motion can be moved at any time.
Meanwhile, the opposition in the K-P Assembly has decided to take all constitutional and legal means, including a no-confidence motion against the chief minister, to prevent the dissolution of the assembly.
COMMENTS
Comments are moderated and generally will be posted if they are on-topic and not abusive.
For more information, please see our Comments FAQ