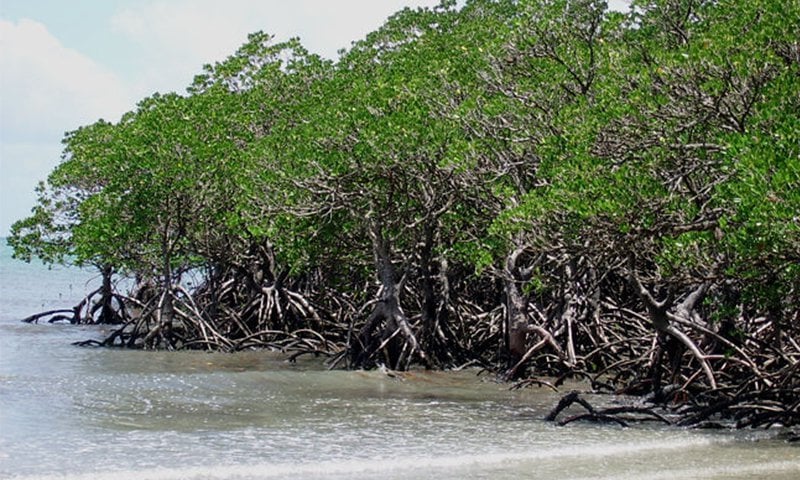 ---
KARACHI:
Mangroves act as a bulwark against cyclones and tsunamis in coastal areas.
However, a mafia is illegally chopping down mangroves with impunity in the coastal areas of the city, including Ibrahim Hyderi and Korangi Creek, as authorities stay silent, according to activists.
Coastal Media Center spokesperson Kamal Shah said that a large-scale harvesting of mangroves in the coastal areas of Karachi, including Ibrahim Hyderi, Korangi Creek, Rerhi Goth, Keamari, Phutti Creek and Port Qasim, has been continuing without any fear.
"Every day thousands of tons of mangrove timber is brought by boats to different jetties and are being sold in different areas of Karachi," he claimed.
According to Shah, mangroves are like nurseries where fish, shrimps and other marine life lay and hatch eggs.
Mangroves also protect coastal communities and cities against cyclones and tsunamis.
"If the destruction of mangroves continues at this scale, then the city may face irreparable damage," he said.
He further said that the provincial government has to put in place measures on an emergency basis to save the mangroves.
The mangroves - the lifeline of the port city - are being cut gradually.
The danger looms over the city.
The timber mafias have hacked away thicket after thicket of mangrove trees lining the coast, leaving the people vulnerable to threats brewing at sea.
"We need to save these trees. They provide us oxygen and protect the ecosystem," says Architect and Filmmaker Tariq Alexander Qaiser.
"This jungle is near to the city," he says in the documentary A Forest in Peril. "We need to protect it. The law is there but not being implemented."
It is estimated that 90 per cent commercially important tropical marine species, like prawns, spend some part of their life in the mangroves.
According to Flora of Pakistan, eight species of plants have been identified along the coast of Pakistan, out of which four have completely disappeared.
Meanwhile, three species are on the verge of extinction and only Avicenna Marina is surviving in the Indus delta.
Cutting the mangroves is illegal but the maximum punishment for cutting the mangroves is a Rs36,000 fine, doubled for habitual offenders, and in any case, prosecutions are extremely rare.
Mangrove is a shadow of its former self -- from 600,000 hectares in the early 20th century now barely 130,000 hectares remain, according to marine biologist Mohammad Moazzam Khan has said.
The rest has fallen victim to illegal loggers, pollution from nearby industry and changes to the river flow caused by irrigation upstream on the agricultural plains of Sindh and Punjab provinces, he said.
The Arabian and Eurasian tectonic plates meet at the Makran Trench, off the coast, and the boundary has the potential to create major earthquakes.
An undersea quake in 1945 generated a tsunami that hit Karachi, killing 4,000 people, and a recent UN simulation suggested the city could be wiped out if a big tremor hit again.
"It is a very important ecosystem... it is the first line of defence against cyclones, strong surges, tsunami and other natural calamities," said Khan, who works for the WWF.
COMMENTS
Comments are moderated and generally will be posted if they are on-topic and not abusive.
For more information, please see our Comments FAQ