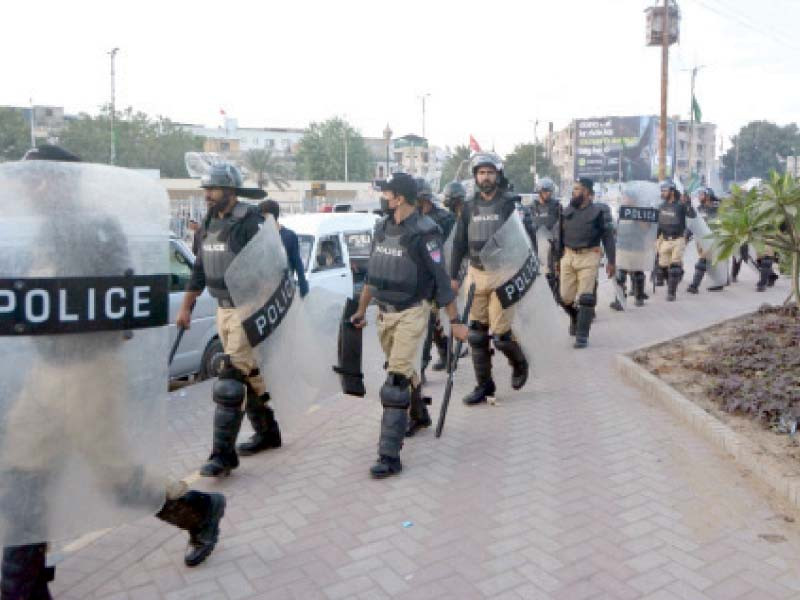 ---
It has been decided to deploy 7,500 personnel around the venue of Pakistan Tehreek-e-Insaf (PTI) long march as a precautionary measure amid threats while PTI chairman Imran Khan will use helicopter to reach Rawalpindi.
Sources claim that more than 50 special commandos from Gilgit-Baltistan (G-B) and Khyber-Pakhtunkhwa (K-P) will also be in the party chairman's security, adding that no unauthorized person will be allowed near Imran Khan.
Lahore police has decided to reserve more than 1,500 policemen for the November 26 PTI long march. Security has been tightened at the entry and exit points of the city to ensure smooth flow of the caravans. Four senior superintendent of police (SSPs), 20 station house officers (SHOs) and 1400 constables have been given the task.
Sources revealed that men from elite force, Punjab constabulary, more than 700 traffic wardens and personnel from other districts will be part of the security contingent. RPO Rawalpindi will be the in-charge of security.
COMMENTS
Comments are moderated and generally will be posted if they are on-topic and not abusive.
For more information, please see our Comments FAQ