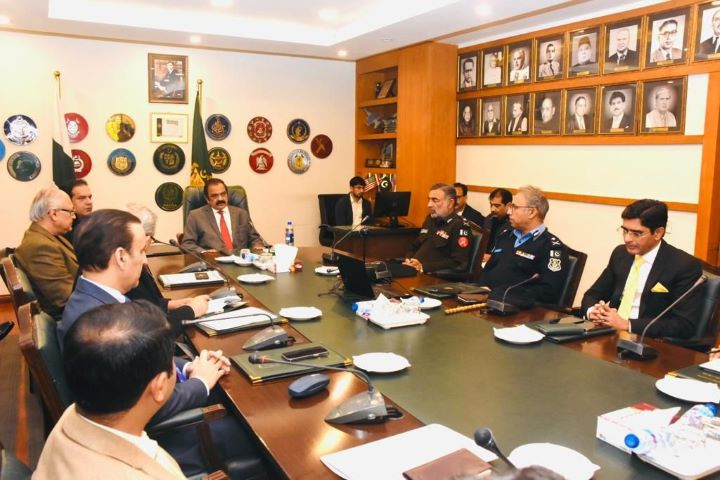 ---
ISLAMABAD:
Interior Minister Rana Sanaullah on Friday said that the federal and provincial governments must vow to "prevent unconstitutional acts" as he chaired a special meeting ahead of the Pakistan Tehreek-e-Insaf's (PTI) long march toward the capital demanding early elections.
The minister stressed that "it is the constitutional responsibility of the provincial governments to stop a political party's illegal treading onto the federal capital".
"Chief secretaries should ensure that no government employee becomes part of any initiative or plan to attack the federation," he added.
Read Imran to be allowed into Islamabad if he assures peace: Sanaullah
The meeting participants provided assurances of full compliance with the Constitution and the law in the event of a possible attack on the federation.
It may be noted that the meeting was attended by Minister of State for Interior Abdul Rehman Kanju, Federal Secretary Interior Yousuf Naseem Khokhar, Punjab Home Department, acting inspector general of police (IGP) Punjab, IG Islamabad and chief commissioner Islamabad as well as representatives of security agencies. Khyber-Pakhtunkhwa (K-P) IGP Moazzam Jah and chief secretary also participated in the meeting via video link.
Yesterday, the Islamabad district administration had refused to grant permission to PTI Chairman and former premier Imran Khan to land his helicopter at the Parade Ground for November 26 Faizabad rally.
The federal government has also extended the implementation of Section 144 in the federal capital for another two months. The district magistrate has issued a notification in this regard.
Earlier in the day, the army General Headquarters (GHQ) had informed the former ruling party that it had no objection to the landing and taking off of a helicopter, which would carry the PTI chief from Lahore to Islamabad, saying the party should approach the Capital Development Authority (CDA) or the federal government as the ground was under their jurisdiction.
Read More PTI granted permission for Faizabad sit-in
Lieutenant Colonel Rao Farman Ali issued the no objection letter to PTI's Additional General Secretary Omar Ayub, stating that the "General Headquarters has no objection to the request for placement of helicopter subject to clearance by concerned authorities".
Talking to the media at the Allama Iqbal Park today, PTI General Secretary Asad Umar stated that DC Islamabad had to take responsibility and asked what "instructions" were being given to him.
He maintained that if something happened to Imran, the federal government would be responsible, and the DC Islamabad would be "directly responsible".
He asserted that Imran's helicopter will land at the Parade Ground, and questioned who the DC was when the GHQ had given the PTI chief permission to use a chopper for travel.
COMMENTS
Comments are moderated and generally will be posted if they are on-topic and not abusive.
For more information, please see our Comments FAQ