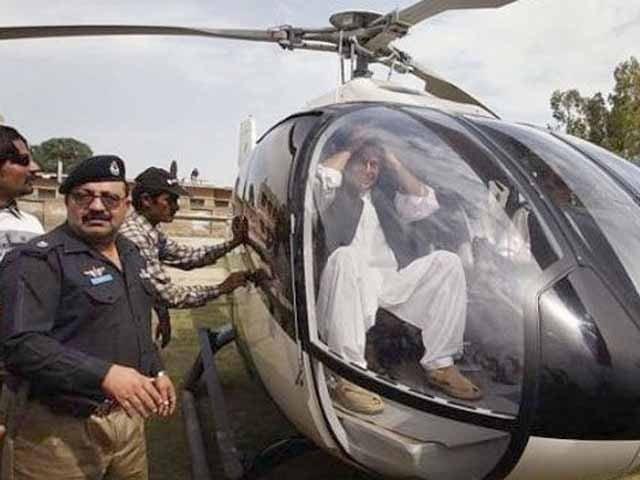 ---
ISLAMABAD:
Pakistan Tehreek-e-Insaf (PTI) General Secretary Asad Umar on Friday accused the deputy commissioner (DC) of Islamabad of trying to endanger the life of party chief Imran Khan by barring him from travelling to Islamabad via helicopter.
On Thursday, the Islamabad district administration refused to grant permission to the deposed premier to land his helicopter at the Parade Ground for November 26 Faizabad rally.
Talking to the media at the Allama Iqbal Park, Umar stated that the DC had to take responsibility and asked what "instructions" were being given to him.
He maintained that if something happened to Imran, the federal government would be responsible, and the DC Islamabad would be "directly responsible".
He asserted that Imran's helicopter will land at the Parade Ground, and questioned who the DC was when the army General Headquarters (GHQ) had given the PTI chief permission to use a chopper for travel.
Read 'No objections' to Imran using helicopter: GHQ
He stated that Imran will soon announce the action plan for tomorrow (Saturday) evening and all arrangements were completed for whatever the party chief would announce. Umar furthered that a tent city was under construction in Allama Iqbal Park.
The PTI leader claimed that Imran had been advised to rest but wanted to stay among the nation.
"The cricket matches will not be threatened by the PTI sit-in," he assured, referring to the upcoming matches between Pakistan and England.
Umar also took to his official Twitter handle to reiterate the claim that the Islamabad administration was "deliberately" trying to increase the threat to Imran Khan's life
اسلام آباد انتظامیہ نے عمران خان کے ہیلی کاپٹر کو پریڈ گراونڈ اترنے کی اجازت مسترد کر دی. کوئی وجہ نہیں دی کیونکہ کوئی ہو ہی نہیں سکتی. جان بوجھ کر اسلام آباد انتظامیہ عمران خان کی زندگی کے لئے خطرہ بڑھانے کی کوشش کر رہے ہیں.

— Asad Umar (@Asad_Umar) November 25, 2022
He maintained that the capital administration had given no reason for denying permission because there could be no reason.
PTI submits another application
The PTI submitted another application before the Islamabad administration today, seeking permission to land the chopper carrying Imran Khan to the Parade Ground.
The Islamabad admin is yet to take a decision.
COMMENTS
Comments are moderated and generally will be posted if they are on-topic and not abusive.
For more information, please see our Comments FAQ