 ---
LAHORE/KARACHI:
After the Censor Board of Federal Certification (CBFC) green-lit Saim Sadiq's Joyland, Punjab Censor Board has now banned the film. Pakistan's Oscar submission's release was previously halted after 'several complaints.'
The Ministry of Information and Culture Punjab issued a notice, which The Express Tribune obtained. It stated that the board has directed Sarmad Sultan Khoosat not to release the film.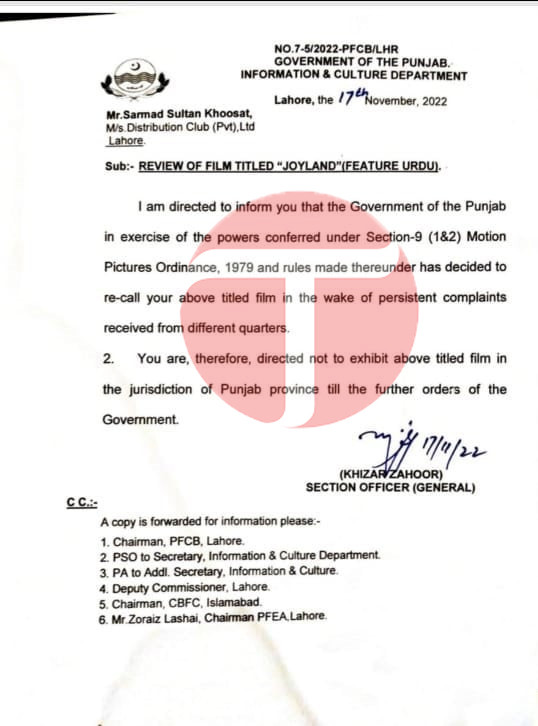 While speaking to the publication, a representative of the Sindh Censor Board has shared that the film will be released in the province with the previously decided cuts. The source also added that, while the previously issued censor certificate stands valid on its own, the board will soon issue a final one for the film's release. Currently, the website for Nueplex cinemas in Karachi also displays Joyland's poster with its release date.
However, Prime Minister's Strategic Reforms head Salman Sufi confirmed Wednesday night that Saim Sadiq's directorial, Joyland, was cleared to be released in Pakistan after a committee deemed it appropriate for screening.
"The film Joyland has been cleared for release by the Censor board review committee formed at the direction of Prime Minister Shehbaz Sharif," he tweeted. "Freedom of speech is a fundamental right and should be nourished within ambits of the law."
Sufi told The Associated Press the film would be allowed to release in Pakistan with 'minor cuts'. "The decision is a simple yet powerful message that the government stands by freedom of speech and safeguards it and cannot allow mere smear campaigns or disinformation to be used as choking creative freedom," Sufi said. The government has not yet withdrawn Joyland's 'uncertified' status, which needs to be done for the film to be cleared.
An eight-member committee formed by Prime Minister Shehbaz upon the requests of fans, political figures and film fraternity members rallying for its release re-reviewed the film and found it unproblematic for release.
Chaired by Federal Minister Sardar Ayaz Sadiq, it was directed to consider the complaints against the said film "contrary to social norms." And after thorough deliberation upon meeting in Islamabad yesterday, it concluded that the CBFC needs to conduct a full board review immediately, to take a final decision about its suitability for screening, as per a press release.
This is a developing story.
COMMENTS
Comments are moderated and generally will be posted if they are on-topic and not abusive.
For more information, please see our Comments FAQ