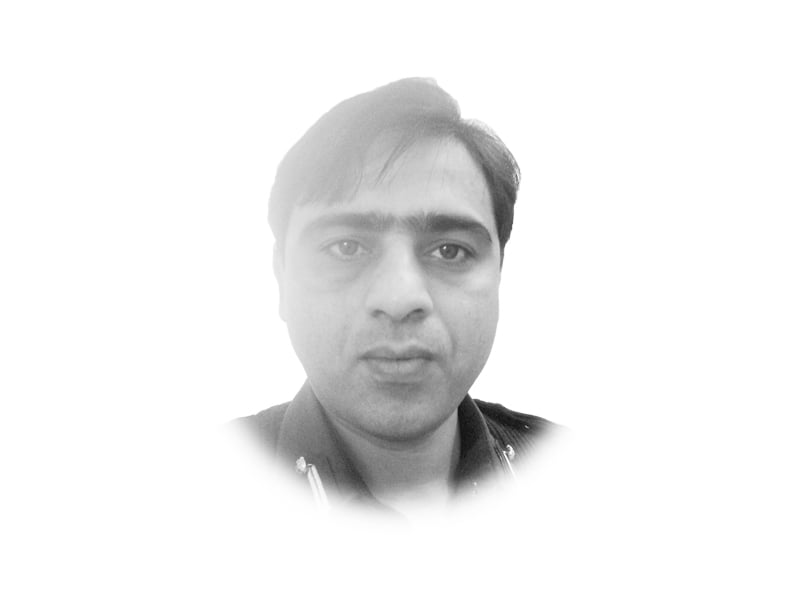 ---
The information sharing has not only been personalised in last few years but it now exists in form of different private digital networks and exclusive social webs. Any narrative therefore can easily be developed through the support of these human cum digital connections. A narrative impacts human thinking, many accept it with conviction but only a few are ready to support it blindly for indefinite period with passion. Hence a network of human minds who are convinced on a certain narrative such that they form an-extended-family-tree-like-structure can virtually sustain it in the long run.
These individuals must have their own secondary and tertiary networks where a convergence of opinion may or may not be formed. However, those who think in unison with primary group of minds tend to spread it further on their electronic and physical grids. Every political party, group or an organisation tend to form a primary group of like-minded personnel who propagate its objectives or aims or goals for sustainability to caution its followers or members or employees to stick to it all the time.
Such a party, group or organisation reminds its members or followers or workers of its objectives which makes them energised and they keep on discussing and sharing the narrative for sustainable propagation. These networks may be termed as neo networks as each member is under obligation to work for the common good. Here everyone feels deeply connected with others and acts as a family in task execution and errand accomplishment.
The neo networks are present in various formats with different structures and compositions. The linear structure exists where such networks are present among members of peer, a tribe or a close society. Here the mobilisation is carried out through a common cause which is important to a group, tribe, section of society or people of a locality. The non-linear structures are present among variegated groups and political parties where there are horizontal and vertical connections among different members of social strata. The non-linear neo networks are lethal in the sense that they have edge over linear structures in three areas.
First, they penetrate deep down across the social settings and mobilise a vast number of people belonging to different social settings. Second, these structures provide a unique opportunity for rich or poor, educated or uneducated, urban or rural population to have a common sense of understanding which they cherish together despite deep differences in their social backgrounds. Third, these networks act as electric grids as they provide multiple pathways to energise each and every component of the network.
The neo networks can be easily used for intelligence collection since they contain people of different backgrounds on their grid. If an information is required to be collected, the initiator shares it on the network or the relevant person may be tasked to provide the information personally or through his secondary or tertiary sources. The person or persons tasked for a job takes(s) it as his or their responsibility for execution. Here the element of personal affinity comes into play and the network virtually acts as an external family framework.
Such a network can easily be used to initiate a movement. For example, the current movement in Iran, which has been started since the custodial death of Masha Amini, indicates that a series of neo networks were utilised in strategising and maintaining it, internally or externally, over a long period of time. The local members of neo network or networks provided the information on the grid which was then developed by others for public dissemination and demonstration.
The most important aspect of these neo networks is that they can withstand the brutal crackdowns by state apparatus and produce a tenacious response on account of close association and personal affinity among its members. Any party, group or organisation which manages to create such neo networks tend to achieve its aims and objectives easily including sustainability of narrative.
Published in The Express Tribune, November 16th, 2022.
Like Opinion & Editorial on Facebook, follow @ETOpEd on Twitter to receive all updates on all our daily pieces.
COMMENTS
Comments are moderated and generally will be posted if they are on-topic and not abusive.
For more information, please see our Comments FAQ