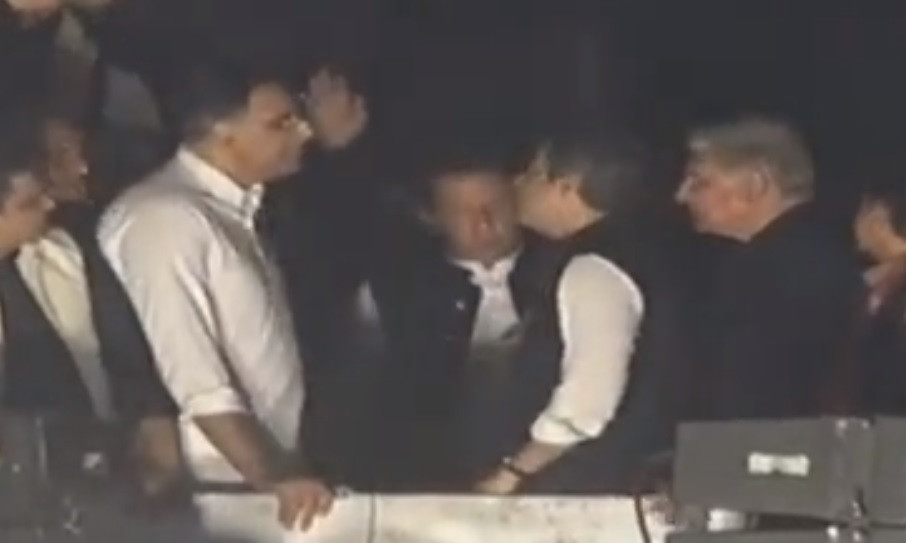 ---
LAHORE:
Pakistan Tehreek-e-Insaf (PTI) leader Asad Umar on Saturday cleared the air and dispelled rumours of a potential rift within the top leadership after cameras caught him in a seemingly 'heated' exchange with party leader Hammad Azhar during the party's much-touted long march.
The PTI leader insisted that he was "only angry because the generator had broken down" and the replacement was taking longer to arrive.
The clarification came after a viral video showed the two leaders ostensibly almost coming to blows in the presence of party chief Imran Khan atop the container, prompting netizens to offer their own interpretations of the scene and speculate if the scene was a glimpse into a much serious dispute bubbling beneath the surface.
"They are shocked to see yesterday's Lahore show solidarity with their captain [Imran Khan] and determination for real freedom. There is a clip circulating about possible differences. I was only angry because the generator had broken down and the second one was taking longer to arrive," the PTI leader said on Twitter.
PTI chief Imran Khan and party leader Shah Mehmood Qureshi could also be seen at the back as Umar made angry gestures.
PTI had set off from Lahore's Liberty Chowk after Friday prayers. Imran reached the starting point of the long march by a container along with other senior party leaders.
COMMENTS
Comments are moderated and generally will be posted if they are on-topic and not abusive.
For more information, please see our Comments FAQ