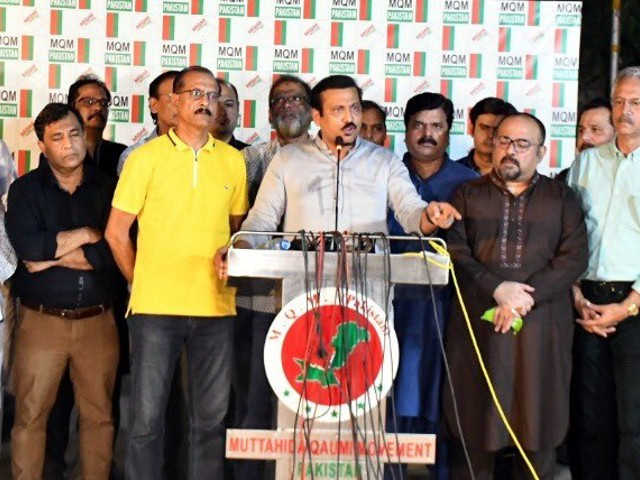 ---
KARACHI:
Prime Minister Shehbaz Sharif and PDM chief, Maulana Fazlur Rehman contacted the top leadership of Pakistan Peoples Party and discussed about resolving the concerns of Muttahida Qaumi Movement-Pakistan (MQM-P), senior leaders of MQM-P told the media at a midnight briefing on Thursday.
After the negotiation progress has been made in the talks between MQM-P and PPP on the agreement on the local government system, they said. After negotiations, the coordination committee (Rabita Committee) held a meeting which continued for more than four hours.
Speaking to journalists after the meeting, the Rabita Committee members said that the MQM-P has welfare of the people as the top priority with regards to the Sindh Local Government (Amendment) Act. They said that they were ready to leave the ministries for empowering the local government system.
MQM-P was in talks with both the Pakistan Tehreek-e-Insaf and its rival Pakistan Democratic Movement (PDM) for improving the LG system in Sindh. Today, after six months, there has been some progress with the PPP.
In response to a question, Khawaja Izharul Hasan said that there was a long-standing demand in the Rabita Committee meeting that the local government elections should be held under 140A.
In response to a question, Khawaja Izhar said that 100 acres of land was allocated for Hyderabad University. "I congratulate the people of Hyderabad, as far as the municipal powers are concerned; negotiations are in progress regarding an empowered system, one constituency, one principle and administrative matters."
Published in The Express Tribune, October 22nd, 2022.
COMMENTS
Comments are moderated and generally will be posted if they are on-topic and not abusive.
For more information, please see our Comments FAQ