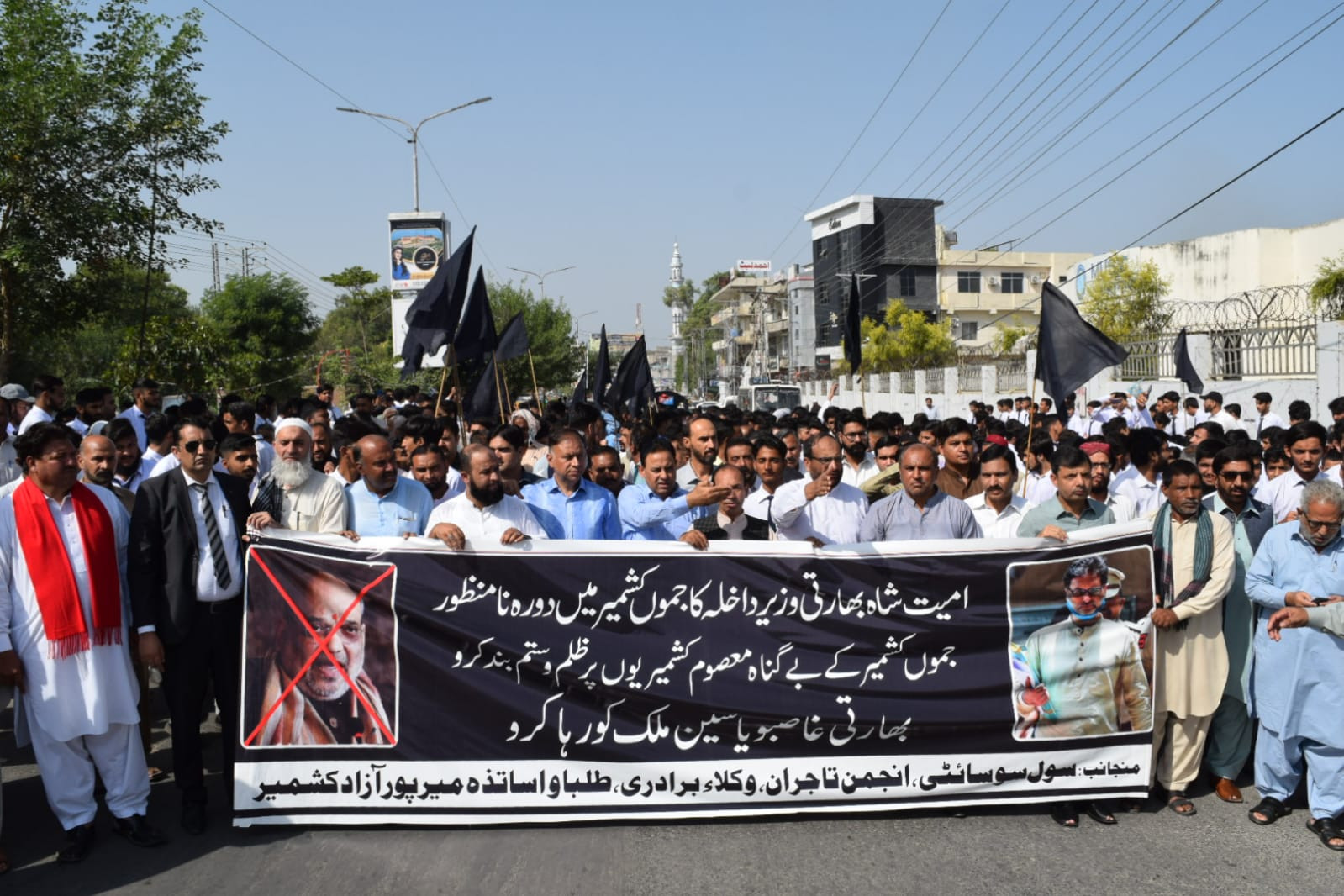 ---
MUZAFFARABAD:
Thousands of people in seven cities of Azad Jammu and Kashmir (AJ&K) took to the streets to condemn the visit of Indian Home Minister Amit Shah to Indian Illegally Occupied Jammu and Kashmir (IIOJK).
The massive anti-India rallies were taken out from Sudhanoti, Mirpur, and Muzaffarabad.
Besides local people, students, traders, and members of civil society also joined the protests to condemn Shah's IIOJK visit.
Anti-India and pro-freedom slogans were chanted like 'we want freedom', and 'stop state terrorism in Kashmir'.
The protesters put the effigies of Amit Shah and Modi on fire to record their protest against Shah's visit.
Addressing the protesters, the speakers said that India is an occupant of IIOJK and has martyred more than one hundred thousand innocent Kashmiris for demanding the implementation of UN resolutions on IIOJK. All martyred were unarmed political workers, they emphasized.
Meanwhile, the Azad Jammu and Kashmir Prime Minister Sardar Tanveer Ilyas Khan said the Rashtriya Swayamsevak Sangh (RSS) influenced regime led by Narendara Modi has broken all records of state-terrorism and savagery to suppress Kashmiris' legitimate struggle for the right to self-determination.
In a statement issued on Wednesday, the prime minister while lauding the Kashmiris' years long struggle said that India must bear in mind the fact that it cannot suppress the ongoing liberation struggle by the dint of force.
He said, "The shutdown in the Indian Illegally Occupied Jammu and Kashmir (IIOJK) on Amit Shah's visit speaks volumes about Kashmiris' commitment and allegiance to the noble cause of freedom and their outright rejection of illegal actions India had taken unilaterally on Kashmir."
The prime minister said the valiant people of the IIOJK have time and again rejected the so-called economic packages offered by the Indian rulers and made it absolutely clear that the economic packages were not an alternative to the right of self-determination guaranteed to them by the international community.
Stressing the need for resolution of the Kashmir dispute in line with the UNSC resolutions, the prime minister warned the future of one and a half billion people of South Asia was inescapably linked to the resolution of the Kashmir conflict.
COMMENTS
Comments are moderated and generally will be posted if they are on-topic and not abusive.
For more information, please see our Comments FAQ