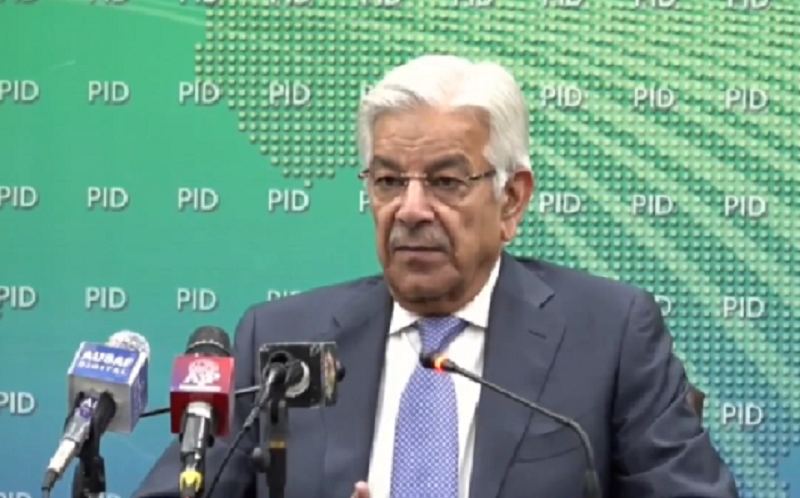 ---
ISLAMABAD:
Defence Minister Khawaja Asif on Wednesday claimed that former premier Imran Khan had sent a message to the establishment through President Arif intimating his desire to initiate dialogue with it.
Addressing the media in the federal capital, the minister said the PTI chief was "losing his nerves" as November – and the much talked about appointment of new army chief – draws closer.
The claims come as a debate rages in national media and political circles on possible successors to incumbent Chief of Army Staff General Qamar Javed Bajwa, who is scheduled to retire in November.
"Imran Khan has not been in his right mind and is growing anxious as November is fast approaching," said Asif, adding that things will pan out according to the law and constitution.
The minister laced in the PTI chief and said that Imran had proved that he was not eligible for the prime minister's position, adding that it's people like him who come into power "when the Results Transmission System (RTS) stops working".
"Imran bites the hand that feeds him. For as long as Khan was in power, he was indebted to someone; and look how he talks today," Asif said, adding that Imran asks for forgiveness when meeting "them" but flares up during his rallies.
Asif went on to add that COAS General Qamar Javed Bajwa's tenure is concluding by the end of this month and he should be allowed to spend time with the soldiers "respectfully".
The defence minister reiterated that the government has yet to decide on General Bajwa's replacement.
Elaborating further, the minister said five names have come up, and according to tradition, any one of those general staff officers or someone not mentioned on the list can be appointed, adding that all three-star ranked officers were eligible for the post of army chief.
"Imran Khan acts hypocritically and lies about the security forces of Pakistan. But it is our duty to stand with the army," he said.
He also mentioned during the media talk that general elections will be held as per schedule.
On Tuesday, PML-N Vice President Maryam Nawaz too had alleged that Imran is seeking an NRO-like deal in secret meetings at the President's House, saying that when he does not get one he takes to the streets.
Maryam was referring to reports that Imran held a meeting with an "important personality" at the Aiwan-e-Sadr recently.
COMMENTS
Comments are moderated and generally will be posted if they are on-topic and not abusive.
For more information, please see our Comments FAQ