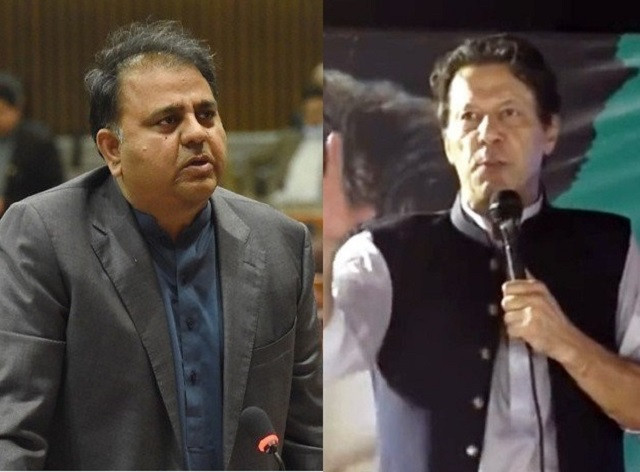 ---
LAHORE:
Lahore High Court (LHC) Chief Justice Ameer Bhatti constituted a larger bench on Wednesday to hear a constitutional petition of Pakistan Tehreek-e-Insaf (PTI) chief Imran Khan and Fawad Chaudhry against the contempt notices issued to them by the Election Commission of Pakistan (ECP).
A three-member larger bench comprising Justice Sadaqat Ali Khan, Justice Mirza Waqas Rauf and Justice Jawad-ul-Hasan will hear the constitutional petitions at 1pm on October 6 (Thursday).
In the petitions challenging the notice of the ECP, it has been argued that the electoral watchdog is an administrative commission and does not have the status of a judiciary.
The petition further argues that holding contempt of court proceedings was only the jurisdiction of the judiciary. Therefore, the ECP notices should be declared null and void.
The larger bench appointed for the hearing later issued notices to the PTI chief, Fawad Chaudhary, deputy attorney general and the ECP.
The case
Earlier, the electoral watchdog had issued contempt notices to both the leaders for levelling allegations against the ECP members including Chief Election Commissioner Sikandar Sultan Raja.
An LHC Rawalpindi bench led by Justice Jawad Hassan took up the petitions filed by the PTI members through advocate Chaudhry Faisal Hussain.
"This court has already granted interim relief in the aforesaid (identical) writ petition... therefore, it is directed that the proceedings may continue but no final order shall be passed till the outcome of the writ petition and in the meanwhile, no adverse action shall be taken against the Petitioner under the garb of the impugned notices, till the next date of hearing," said the seven-page written order issued by Justice Hassan.
A similar order was passed regarding Fawad's petition.
The court also issued notices to the respondents to file reports and para-wise comments. The bench further issued notice to the attorney general of Pakistan under Order XXVII-A of the Civil Procedure Code (CPC), which pertains to suits involving a substantial question of law as to the interpretation of the Constitution or as to the validity of any statutory instrument.
COMMENTS
Comments are moderated and generally will be posted if they are on-topic and not abusive.
For more information, please see our Comments FAQ