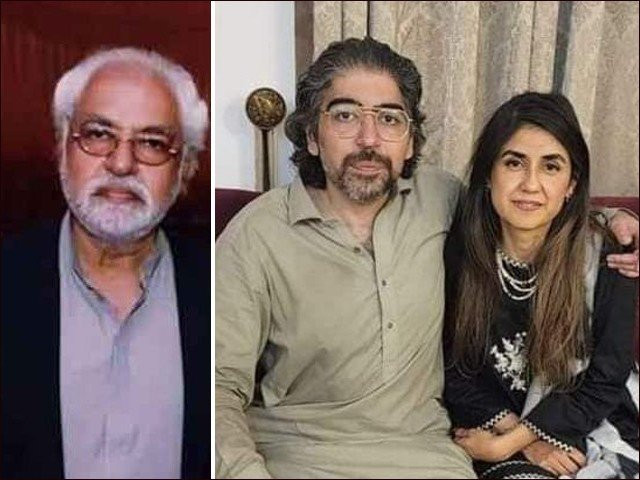 ---
ISLAMABAD:
A local court on Saturday extended the interim bail of Samina Shah, mother of Shahnawaz Amir, the main suspect in the Sara Inam murder case, till Monday (tomorrow).
During the hearing of the bail application before the court of Islamabad Additional District and Sessions Judge Sheikh Sohail, the investigating officer presented the record in the court.
Accused Shahnawaz's mother appeared in the court along with her counsel Arsal Amjad Hashmi.
The court inquired the applicant's counsel whether the accused was unaware about the presence of the girl at the farmhouse. "Why did Samina Shah not inform the police directly? She has been residing in the farmhouse for the last 40 years and she also knew about the presence of a girl there," the court remarked and observed that she spoke to her ex-husband Ayaz Amir yet he did not mention it.
The applicant's counsel adopted the stance that the police were 'timely' informed.
"Accused Shahnawaz first called Ayaz Amir and then called his mother. The farmhouse is situated on 40 kanals of land. By the time Samina reached the scene Sara was already dead," the counsel argued.
Hashmi further argued that in a WhatsApp message sent at 12:37pm, Shahnawaz asked Samina to talk about Sara's 'rukhsati' with Sara's family following which she fell asleep.
"She does not know what happened later that night. Her role was only to ensure that the suspect remained in the room and till she called the police over and the police reached the spot and arrested the accused," the counsel contended.
In her bail petition, Samina had pleaded that she had "nothing to do with the incident" and nor was she an eye-witness to the crime.
It also added that the accused suffers from health problems and requested pre-arrest bail to be approved.
The court adjourned further hearing of the case till Monday (tomorrow).
Published in The Express Tribune, October 2nd, 2022.
COMMENTS
Comments are moderated and generally will be posted if they are on-topic and not abusive.
For more information, please see our Comments FAQ