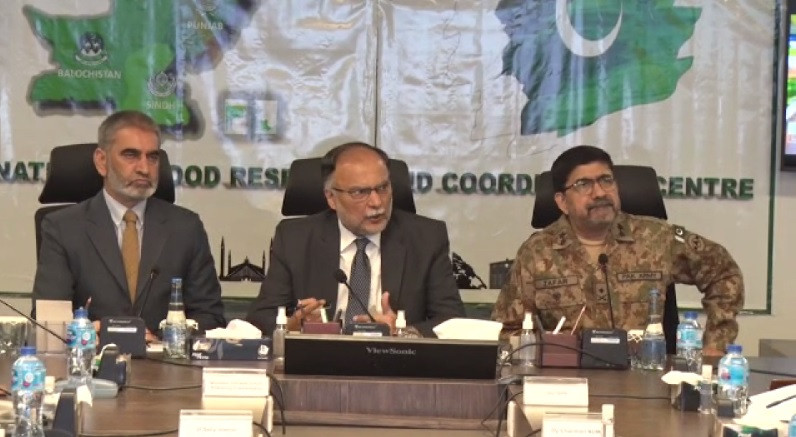 ---
ISLAMABAD:
National Flood Response Coordination Centre (NFRCC) Chairperson Ahsan Iqbal urged media personnel on Thursday to continue highlighting the devastation and suffering caused by the unprecedented floods that lashed the country this monsoon season.
Addressing a presser at the NFRCC with senior journalists and military persons present, the minister expressed appreciation for the media for shedding light on the flood situation, and indicating where relief efforts were necessary.
Iqbal said that relief activities initiated after the cataclysmic floods in the country could continue for the next two years.
Talking to the anchorpersons, Iqbal blamed climate change for the unprecedented rainfall and flooding that have "severely affected" the rural areas.
"Natural disasters are a result of climate change, however, we are coming up with plans to deal with them in future. For now, the government has allocated Rs40 billion for 20 underdeveloped districts."
The forum briefed the senior journalists about damages to life, property, communication, and infrastructure as well as the relief efforts underway. It further discussed the opening of rail and road networks, among other rehabilitation plans for bringing the victims into routine life.
The NFRCC chief reviewed the destruction caused by the floods and the role of the armed forces, civil administration, and various organisations in rehabilitation.
"During this crisis, there are heroes who worked day and night and put their own lives in danger to save others", Ahsan said, adding that he had met with on-ground officers and relief workers and could see the pain in their eyes to help those in distress.
With additional input from News Desk
COMMENTS
Comments are moderated and generally will be posted if they are on-topic and not abusive.
For more information, please see our Comments FAQ