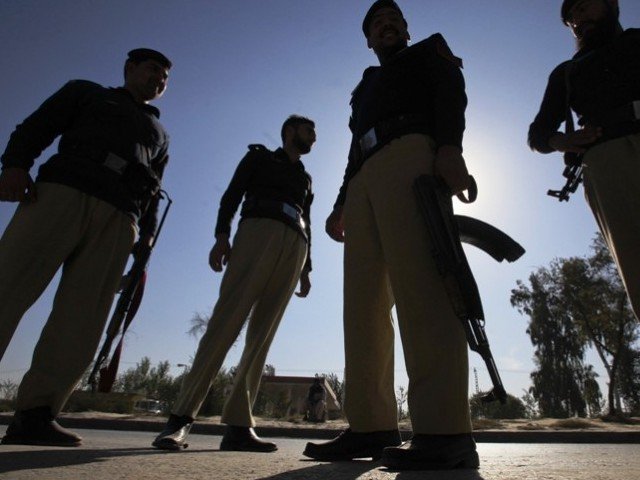 ---
LAHORE:
Over 3,500 police officers from the rank of Inspector General of Police (IGP) to Station House Officers (SHOs) have been transferred during the last five months - the period that witnessed struggle for power and regime change in Punjab between the Pakistan Muslim League-Nawaz (PML-N) and Pakistan Tehreek-e-Insaf (PTI).
The trend of massive reshuffle and appointment of police officers of choice continued as on Monday IGP Faisal Shahkar issued transfers of at least seven police officers (SPs and SSPs).
The fate of Additional IG Ghulam Mehmood, a grade 21 officer, was still hanging in the balance as the Establishment Division had ordered him to report to them but the Punjab government stopped him from leaving the charge.
In April this year, Usman Buzdar was replaced by Hamza Shahbaz as Punjab's chief minister after a balloting in the Punjab Assembly. Imran Khan had nominated Pervaiz Elahi as their candidate after Usman Buzdar had tendered his resignation in March.
Within days of change of regime, massive reshuffles were made on key position. Bilal Siddique Kamyana was appointed as Lahore CCPO directly from the federal capital.
Dozens of RPOs and DPOs have also been transferred during the period. Each senior police officer such as a DPO after taking charge would trickle down the change of command to the police station level, the basic unit of police department. Lahore has at least 84 police stations.
After change of command while Hamza as the chief minister, within weeks almost all the SHOs have been gradually replaced with the officers of choice of new Lahore Police command.
Read Police assert successes amid rising crime rate
Though Rao Sardar Ali Khan appointed by the PTI government as Inspector General of Punjab Police was retained by Hamza Shahbaz regime but he refused to continue working further in wake of fear of retaliation by the PTI leadership annoyed over use of force by the police to stop their long march on May 25. He was replaced by Faisal Shahkar as the new IGP.
In July, Hamza was replaced by Pervaiz Elahi as Punjab chief minister. The day right after taking charge as Chief Minister Punjab, he issued orders of transfer of Bilal Siddique Kamyana as Lahore CCPO and DIG Rana Abdul Jabbar as DG Anti-Corruption.
The change of command of senior police officers- additional IG, DIGs, AIGs, RPOs, CPOs and DPOs continued vigorously by Pervaiz Elahi's government since July.
In less than five months since May, over 220 SSPs and SPs were among 3,500 other cops transferred. During the period, as many as 420 DSPs were also transferred. There are as many as 720 police stations across Punjab.
Over 2,900 SHOs have been transferred at the basic police units.
During the period, from CCPO to DIGs to divisional SP and circle officers all the command has been transferred at least once.
Even civil bureaucracy has witnessed some major reshuffles.
The transfer spree continued in Punjab under Acting Chief Secretary Abdullah Khan Sumbal as six more officers were transferred and posted in the province of which five were Officers on Special Duty (OSDs).
As per the notification issued by the Nadeem Sarwar (BS 20) who was Officer on Special Duty (OSD) was posted as Anti-corruption Establishment DG reliving Additional Chief Secretary Home Capt (retd) Asadullah Khan from the additional charge.
Published in The Express Tribune, September 27th, 2022.
COMMENTS
Comments are moderated and generally will be posted if they are on-topic and not abusive.
For more information, please see our Comments FAQ