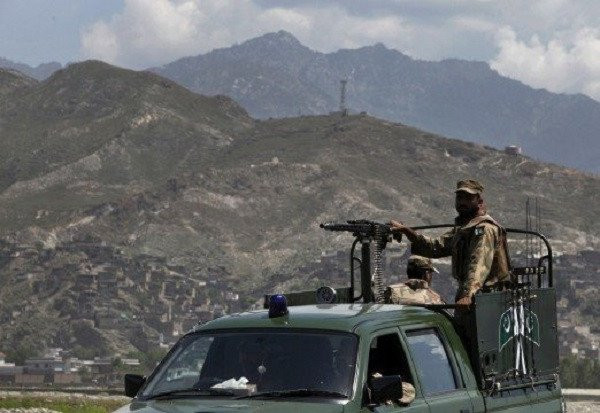 ---
At least three terrorists were killed by security forces in two different operations in Khyber-Pakhtunkwa's Lakki Marwat and Swat districts, the military said on Friday.
On the night of September 22-23, army troops observed and engaged terrorists' movement in general area Sheikh Badin Mountains of Lakki Marwat, the Inter-Services Public Relations (ISPR) said.
"During exchange of fire, two terrorists got killed. Weapons and ammunition was also recovered from the killed terrorists," it added.
The slain terrorists remained actively involved in target killings and terrorist activities against security forces, said the ISPR.
In a separate operation on the night of September 22-23, security forces conducted an intelligence-based operation over suspected presence of a high-profile terrorist in Charbagh area of the Swat district.
"During encounter, the terrorist got killed. Weapon and ammunition were also recovered from the killed terrorist. The killed terrorist remained actively involved in terrorist activities against security forces," said the military's media wing.
Also read: Solider martyred in cross-border terrorist attack from Afghanistan
Earlier today, the Senate's Defence Committee was assured that the writ of the state is paramount and the law and order situation is under control in Swat after law enforcement agencies launched strict action against hostile elements amid reports of Tehreek-e-Taliban Pakistan (TTP) comeback.
The committee, which met under the chairmanship of Senator Mushahid Hussain Sayed, received a comprehensive briefing on the security situation in Swat against the backdrop of reported activities of the TTP, a Senate Secretariat news release said.
It was told that some violent incidents were reported in the area but the culprits behind them were traced and caught.
The committee members appreciated the Counter-Terrorism Department (CTD) and other law enforcement forces – including police, levies and paramilitary forces – who had played a heroic role to protect and promote peace as well as the lives of the people of Malakand.
COMMENTS
Comments are moderated and generally will be posted if they are on-topic and not abusive.
For more information, please see our Comments FAQ