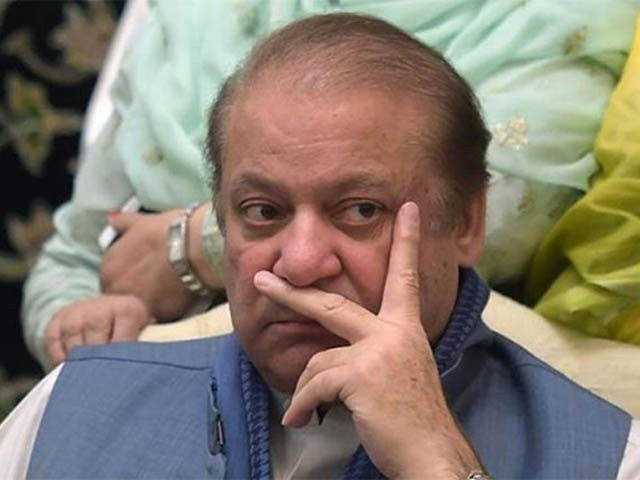 ---
LAHORE/ISLAMABAD:
Former prime minister Nawaz Sharif moved the accountability court in Lahore on Friday for acquittal in a case under the amended accountability law, as a court in Islamabad dismissed orders for the arrest of former finance minister Ishaq Dar upon his arrival in Pakistan.
Nawaz, also the Quaid of the ruling Pakistan Muslim League-Nawaz (PML-N) who currently resides in London on medical grounds, challenged the court's decision that declared him a proclaimed offender in the illegal plot allotment case.
The acquittal plea was moved as the Islamabad accountability court Judge Muhammad Bashir suspended the arrest warrant against Dar – who is also currently residing in London – and dismissed orders for his arrest upon his return to Pakistan.
The PML-N supremo argued in the petition that under the NAB Amendment Act, the graft buster had no authority to take action in cases that involved less than Rs500million, adding that reference filed against him accused him of Rs130million corruption.
It is pertinent to note that the National Accountability Bureau (NAB) on Wednesday announced that it would not take up corruption cases that involved an amount less than Rs500 million as it decided to implement the new amendments to the law in letter and spirit.
Read Nawaz losing his grip on PML-N
The PML-N Supremo was declared absconder by the accountability court in Lahore in November 2020. The court also issued non-bailable arrest warrants against him in an illegal plot allotment case.
Separately, according to Express News, Dar's lawyer Qazi Misbah challenged the permanent arrest warrant for the former finance minister. The lawyer assured the court that Dar would appear before the court straight after landing at the Islamabad airport.
Judge Bashir then asked about the NAB prosecutor. On that the court was told that Prosecutor Afzal Qureshi had gone to perform Umrah. Subsequently, the accountability court suspended Dar's perpetual warrant till October 7 and adjourned the hearing.
The court, while giving an opportunity to Ishaq Dar to surrender, also ordered that the PML-N leader not be arrested when he lands in Pakistan. Judge Bashir further remarked that Dar should return to Pakistan and look into the cancellation of the warrant against him.
COMMENTS (1)
Comments are moderated and generally will be posted if they are on-topic and not abusive.
For more information, please see our Comments FAQ