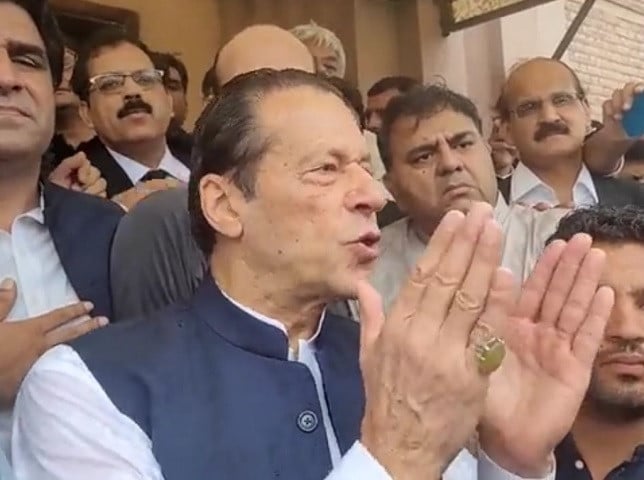 ---
ISLAMABAD:
Given PTI Chairman Imran Khan's popularity, some unknown fear or lack of evidence, the government seems reluctant to take action against his party.
Even after nearly two months have passed since August 2, the government has not decided on the PTI's prohibited funding issue.
Neither a declaration has been filed against the PTI, nor a reference for Imran's disqualification.
Besides, there is complete silence on the issue in the government ranks,.
The federal government will take the matter forward as a result of the Federal Investigation Agency (FIA) reports.
Sources said the federal government had been unable to make a final decision on the matter.
The consultations on whether to file an anti-PTI declaration or a disqualification reference against its chief remain pending.
On August 2, the Election Commission of Pakistan (ECP) had finally announced its ruling in the long-awaited, cliffhanger case of the PTI's prohibited funding and ruled that the party did indeed receive illegal funding. It had also issued a notice to the PTI asking why the funds should not be confiscated.
A three-member ECP bench headed by Chief Election Commissioner (CEC) Sikander Sultan Raja announced the verdict in a case filed by PTI founding member Akbar S Babar which had been pending since November 14, 2014.
In its written order, the ECP said the political party received millions of dollars in illegal funds from foreign countries, including the United States, United Arab Emirates, UK, and Australia.
The electoral watchdog also declared that 13 'unknown' accounts have been found linked to the party and the submissions by the PTI chief were 'inaccurate and wrong'.
The federal cabinet had urgently decided to grab on to this opportunity.
In the cabinet meeting, a ministerial committee was established under the chairmanship of Federal Law Minister Senator Azam Nazeer Tarar, but that body was still inactive.
According to the sources, this committee had to prepare a declaration against the PTI and submit it to the Supreme Court, while preparing a reference for Imran's disqualification.
The sources said the government believed that there was nothing concrete against the PTI except the ECP's report.
They added that the investigation report of FIA will be awaited till October. After that, any constitutional and legal option would be decided in the light of that report.
According to government sources, a decision would be made after collecting all the material on the issue.
They added that the declaration against the PTI would not be filed in a hurry as it might benefit the party.
If the FIA report had enough material, then a reference would be filed against Imran along with a declaration of dissolution of the party immediately.
COMMENTS
Comments are moderated and generally will be posted if they are on-topic and not abusive.
For more information, please see our Comments FAQ