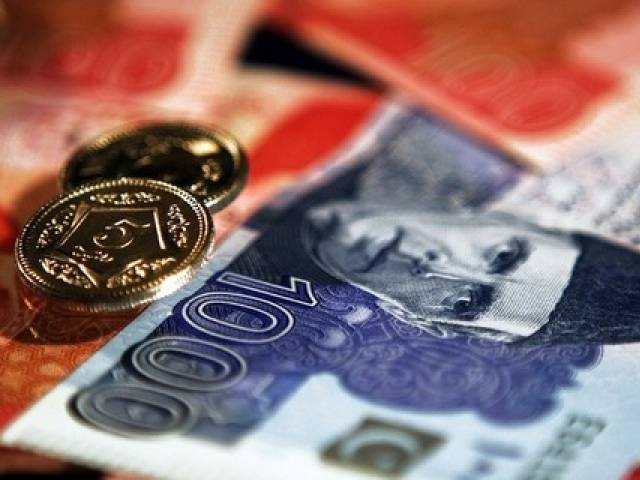 ---
KARACHI:
The lending rate of commercial banks spiked to a record high at 16% on financing to the cash-strapped government, as demand for funds stood high for flood rehabilitation work and meeting other budgeted expenditures.
The government borrowed a total of Rs1.399 trillion from banks against the target of Rs1.50 trillion. Banks offered financing of Rs2.479 trillion.
The fresh borrowing came as the government has to repay Rs1.968 trillion to commercial banks this week.
It raised the financing through the auction of sovereign debt securities (treasury bills) of three to 12 months on Wednesday. "The cut-off yield (lending rate) could have gone up further had the government borrowed the targeted amount," Arif Habib Limited Head of Research Tahir Abbas said while talking to The Express Tribune.
Out of the total borrowing of Rs1.399 trillion, the government accepted bids for the largest amount of Rs1.273 trillion for short-tenure (three-month) T-bills.
It raised the highest amount through the sale of short-term papers against plans to acquire higher financing via long-term debt securities. Raising funds for the longer term gives room to the government to fix structural issues, increase tax revenue collection and reduce reliance on borrowed money.
"The government was forced to borrow a higher amount through short-term T-bills as banks offered the highest amount for those papers. Besides, the banks also demanded a higher rate of return on the comparatively longer-tenure six-month and 12-month T-bills," Abbas said.
Abbas said the auction results did not indicate a further hike in the central bank's key policy rate in the monetary policy announcement in October. At present, the policy rate stands at 15%.
The breakdown of T-bills auction showed that the government raised Rs1.273 trillion against the target of Rs500 billion through the sale of three-month T-bills. The debt securities were sold at a record high return of 15.99%, which was set in the previous auction.
The government raised another Rs80 billion against the target of Rs500 billion through the auction of six-month T-bills at a cut-off yield of 15.99%, which was 15 basis points higher compared to the previous auction held on September 7, 2022.
It borrowed another Rs46 billion against the target of Rs500 billion through the sale of 12-month papers.
Published in The Express Tribune, September 22nd, 2022.
Like Business on Facebook, follow @TribuneBiz on Twitter to stay informed and join in the conversation.
COMMENTS
Comments are moderated and generally will be posted if they are on-topic and not abusive.
For more information, please see our Comments FAQ