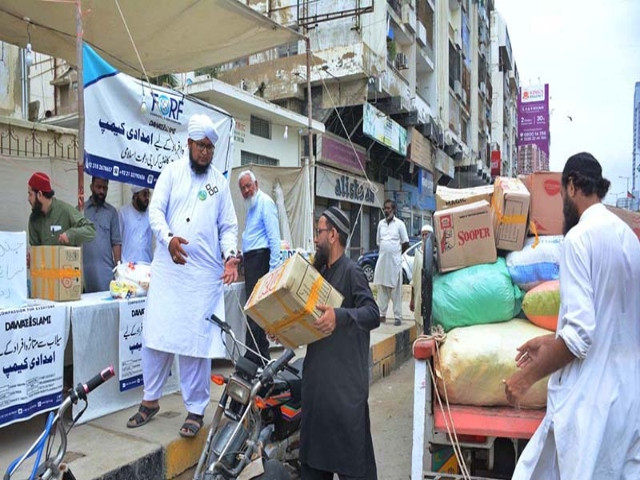 ---
LAHORE:
As calls for donations to help flood victims have increased, relief camps have started popping up in every corner of Lahore; however, some are actually being used as a guise to defraud people.
Since no formal instructions have been issued to take permission from any government agency to collect relief materials for the flood victims, efforts to collect food supplies and money have become a source of income for fraudsters.
The Deputy Commissioner (DC) Lahore's office, when contacted to ask regarding the upsurge of dubious charities setting up camps to collect donations, said that those who have been involved in relief efforts before are privy to the fact that no-objection certificates (NOCs) and registration of welfare organisation are necessary steps to be taken before collecting donations.
"No non-governmental organisations (NGOs) have approached us for an NOC yet," said Imran Maqbool, who is the spokesperson of the DC office. Maqbool admitted that currently anyone could set up a table and start collecting donations for the relief of flood victims. "We have not taken any action yet because the people want to help the country in this emergency situation."
While the district administration is showing restraint for now, residents of Lahore are of the opinion that this will lead to people not donating due to a lack of trust. Chaudhry Umair, a resident of the city, said that currently there is no record of where relief items are going and who is receiving them. "The DC office must keep a record of who is collecting donations and where the donations are going. Otherwise actual victims who deserve our help will be deprived," Umair suggested.
He further said that tough requirements for granting an NOC should be in place to prevent fraud. Moin Alvi, a resident of the Gulberg area, agreeing with Umair, said that presently anyone could hold up a donation box and start looting people under the guise of relief efforts.
"The district administration must act to regulate the relief work being done. The NOC requirement should be enforced. It will help ensure transparency," Alvi remarked, adding that the process would put people at ease since they would know that what they are giving away is actually reaching those in dire straits.
The Express Tribune contacted officials of the provincial social welfare department regarding the perceived lack of transparency in relief efforts of NGOs and was informed that the department did not have any information regarding the delivery of relief items.
When contacted to inquire about the provincial government's soft stance on anyone setting up relief camps and potentially defrauding people, Punjab Home Department's spokesperson replied that they had not received any complaints yet.
"A crackdown will be started against all fraudsters if we receive complaints. However, we cannot take steps unwarrantedly," the spokesperson informed while talking to The Express Tribune.
Published in The Express Tribune, September 20th, 2022.
COMMENTS
Comments are moderated and generally will be posted if they are on-topic and not abusive.
For more information, please see our Comments FAQ