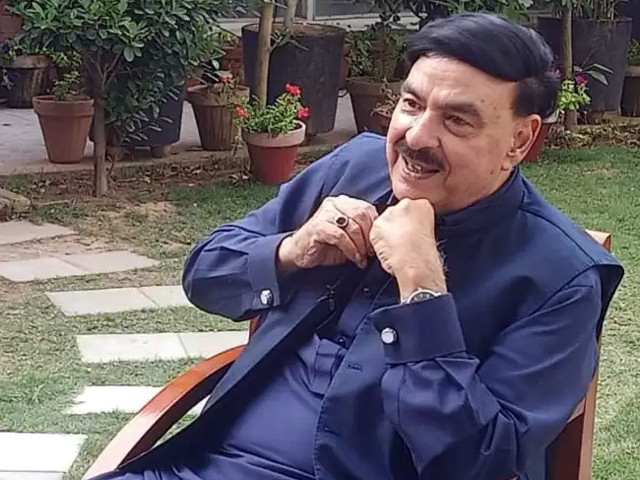 ---
RAWALPINDI:
According to Sheikh Rashid Ahmed, the leader of the Awami Muslim League (AML), behind-the-scenes attempts at reconciliation can be successful by October 15; otherwise, there would be 'judo-karate' on the streets.
Former prime minister and PTI Chairman Imran Khan has separated with a lovely swinging delivery, Sheikh Rashid said in a statement on the social media platform Twitter on Friday. "Now PPP and Shehbaz must deal with the issue of [army chief's] appointment," he added.
In addition to criticising Prime Minister Shehbaz Sharif, the former interior minister stated that Foreign Minister and PPP Chairman Bilawal Bhutto Zardari did not even opt to fly in Shehbaz's aircraft to Samarkand.
اصل تعیناتی کامسئلہPPPاورشہبازمیں پڑگیاہے۔عمران خان خوبصورت سوینگ کراکےالگ ہوگیاہے۔بلاول نےشہبازکےجہازمیں ثمرقندجانابھی پسندنہیں کیا۔پس پردہ مفاہمتی کوششیں15اکتوبرتک کامیاب ہوسکتی ہیں ورنہ سڑکوں پرجوڈوکراٹےہونگے۔MQMکی سیاست اسکےگلےپڑ گئی ہے۔وقت پرفیصلےنہ ہوں تووقت انتظارنہیں کرتا

— Sheikh Rashid Ahmed (@ShkhRasheed) September 16, 2022
He projected that "judo-karate" would be practised in the streets if the 'covert efforts' to reconcile did not succeed by October 15.
Sheikh Rashid, a close ally of Imran Khan's party, further said that the MQM-P's internal intrigues had put them in danger. "Time does not wait if decisions are not made on time."
The statement came days after ex-PM Imran made a dramatic U-turn on Monday, saying the process of naming the next army chief should be postponed until after the next general election.
The suggestion effectively meant giving the incumbent COAS, General Qamar Javed Bajwa another, albeit brief, extension.
He claimed that neither Asif Ali Zardari nor Nawaz Sharif met the criteria for appointing the new army chief, and that both lacked the moral ground to participate in such an important decision-making process.
The PTI chief stated once more that he was willing to hold talks with the incumbent government if it was willing to hold new elections. "The country is in extraordinary circumstances [...] at this time, we must consider what decisions to make."
He stated that his life and death were in Pakistan, and thus his interest was in the improvement of the country. "I'm always available to speak if they want to discuss free and fair elections."
Read more: Imran amenable to COAS extension
General Qamar's six-year term expires in late November, and the chief military spokesperson has already stated that the current army chief has no plans to seek an extension. So far, there has been no reaction from the military's media wing to Imran's latest statement.
The parliament was given six months by the Supreme Court to change the army act to make way for expansion. With the backing of the current ruling parties, the parliament unanimously approved the amending measure.
The PTI chief recently accused the Pakistan Peoples Party and the Pakistan Muslim League-Nawaz of pushing for the appointment of army chief of their choosing in an effort to protect their reputations from corruption allegations, which elicited a sharp response from the military.
COMMENTS
Comments are moderated and generally will be posted if they are on-topic and not abusive.
For more information, please see our Comments FAQ