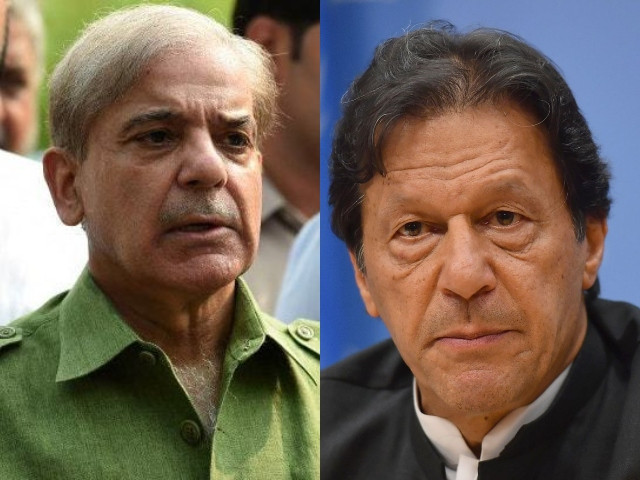 ---
ISLAMABAD:
Prime Minister Shehbaz Sharif and PTI Chairman Imran Khan have engaged in a war of words on social media with the latter asking the former if his government was responsible for the alleged actions against his party including the "blacking out" of his speeches on media and the premier responding that they had not time for the former PM's "accusations and misunderstandings".
"My question to (PM) Shehbaz Sharif: Are you responsible for the nefarious attempt to silence us on media due to the fear of Tehreek-e-Insaf, torturing journalists and registering false cases against them, blacking out me and Tehreek-e-Insaf on TV and YouTube and stopping the broadcast of my flood relief telethon?" the PTI chairman asked PM Shehbaz on Twitter a day ago.
"We know that your criminal followers and their patrons are afraid of the PTI's popularity. If you are not responsible for usurping our constitutional rights and deviating from international commitments regarding freedom of expression and press, then it is your responsibility to tell the nation who is responsible for all this," Imran continued.
Responding to the PTI chief on Tuesday, PM Shehbaz said that his government was engaged in resettling the people affected by floods and had no time for his "accusations and misunderstandings".
Also read: 'Politics during floods': PM warns politicians of public reaction
"Our government is busy in rehabilitating the flood victims, therefore, [we do] not have time for your accusations and misunderstandings," PM Shehbaz stated on Twitter.
Regarding the money collected for the flood victims, the premier expressed the hope that the PTI chairman would give an "account for every single penny" raised in the telethon as well as the donations gathered during the 2010 floods "as I and my colleagues have always given".
Commenting on the Imran's accusations of oppression, PM Shehbaz stated that such restrictions and methods were the "PTI's tactics and not ours".
"We are only following the path of the law and the Constitution," he added.
Earlier, the PTI had censured the government for allegedly blocking the transmission of the telethon that the party had arranged on Sunday night for gathering donations from overseas Pakistanis.
Separately, in the cabinet meeting, PM Shehbaz on Tuesday said that flood-stricken people were angry over those politicians who were busy in holding rallies despite the natural calamity in the country, adding that masses would hold them accountable at the right time.
"The people know who is doing politics and who is serving them. People are quiet but they are in pain and will respond when the time will come," Express News quoted the premier as saying.
The premier urged the ministers to focus more on helping the poor hit by the floods at this critical time beside carrying out their official duties.
COMMENTS
Comments are moderated and generally will be posted if they are on-topic and not abusive.
For more information, please see our Comments FAQ