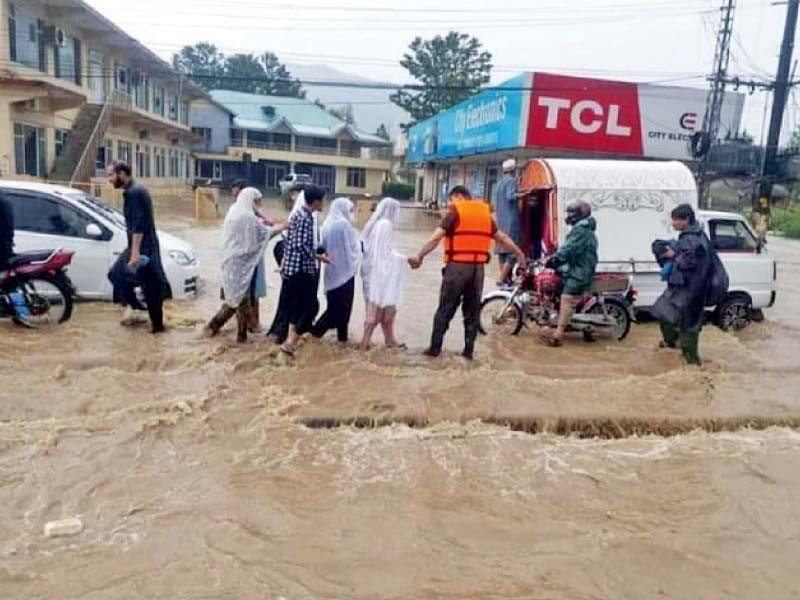 ---
ABBOTABAD:
A heavy downpour lashed Abbottabad and surrounding areas on Saturday morning, inundating streets and roads.
The rainwater also entered houses in Sikandrabad, Jab Bridge, Mandian, Link Road, PMA Road, and Kaghan Colony.
After the rainfall, traffic disrupted on the main Karakoram Highway passing through the Abbottabad city.
Similarly, several city highways have been submerged due to the torrential rain, including Mansehra Road, Jinnahabad Link Road, and Kakul Road. The district administration is yet to resolve the growing crisis.
Rescue 1122 District Emergency Officer Imran Khan Yousafzai on Saturday conducted relief operations at various places including inside and outside ATH, various vehicles and people were reportedly trapped in water those were later recovered.
Torrential rains submerged the Ayub Medical Complex, the largest medical hospital in Abbottabad.
Rainwater even entered into the wards, operation theatres, and corridors. The relatives of the patients with the help of Rescue 1122 were compelled to relocate patients to safer areas. Both patients and health workers faced difficulties during treatments.
ATH Director Dr Ashfaq Ahmed informed the media that ATH staff shifted patients from five flood-affected wards to other wards. "I have been supervising all the operations myself for the last four hours and I also requested the public to cooperate with the hospital staff during this difficult time."
ATH spokesperson said that people have diverted the water of the three surrounding ravines and nullah towards ATH which has damaged many wards on the ground floor. He added that unfortunately the nullah situated at Small Industrial Estate (SIE) Abbottabad was blocked for reconstruction for the last six months and the water was also diverted towards ATH which has caused a lot of damage in the hospital during the heavy rains.
On the other side, flood water also entered several houses in various areas of the city. More than 66 vehicles stuck in the water were also recovered and moved to safe places by the rescue 1122 personnel. Due to the rising water level on Mansehra Road, rescue teams faced severe difficulties in rescuing trapped people and vehicles.
Published in The Express Tribune, September 11th, 2022.
COMMENTS
Comments are moderated and generally will be posted if they are on-topic and not abusive.
For more information, please see our Comments FAQ