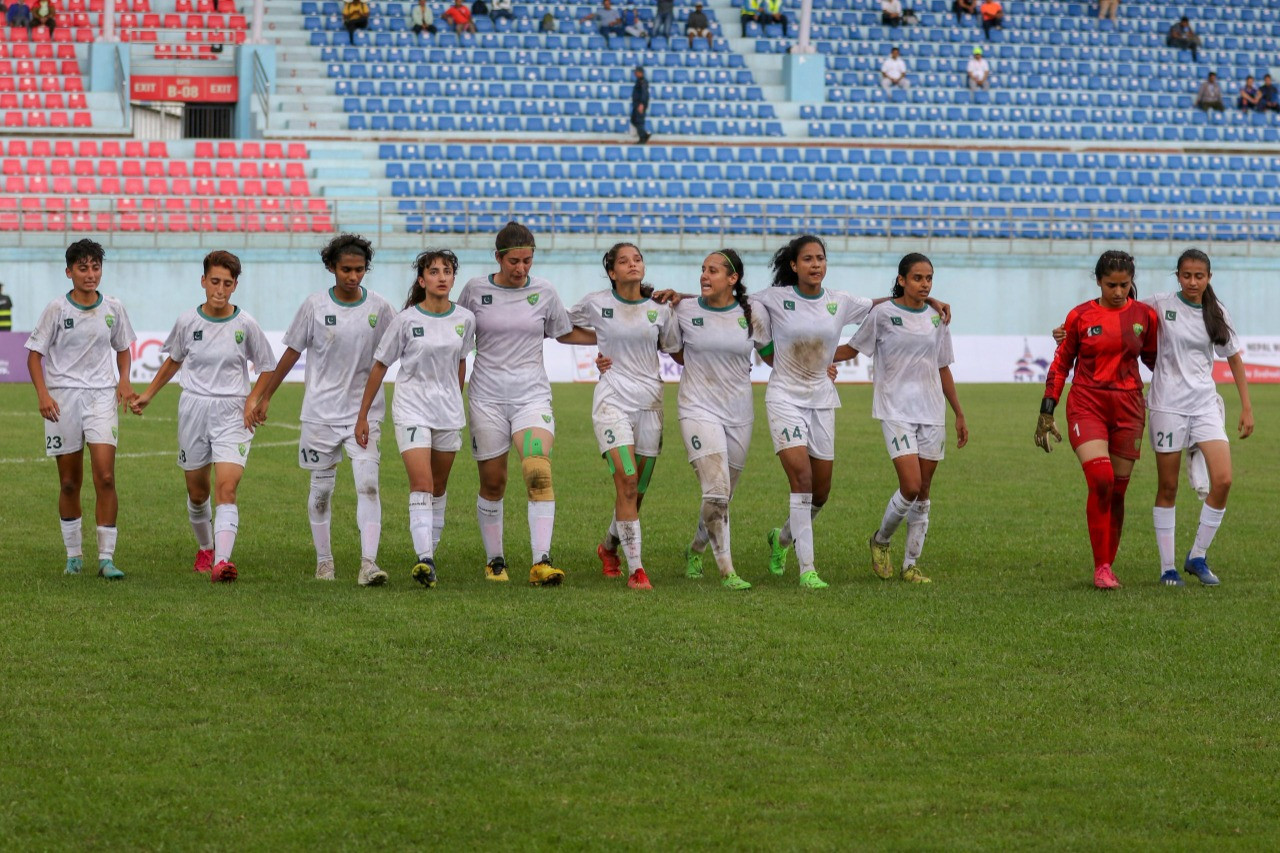 ---
KARACHI:
Pakistan women's football team, playing their first international event after nearly eight years, were beaten 6-0 by Bangladesh in the ongoing Saff Championship.
Pakistan were pushed on defence for most of the match by an aggressive Bangladesh side.
For Bangladesh, Monika Chakma scored the first goal in the third minute of the game.
Mosammat Shopna doubled their lead in the 28th minute, while Sabina Khatun then completed her hat-trick with goals in the 31st, 35th and the 59th minute.
Ritu Porna Chakma scored the last goal of the one-sided contest in the 77th minute.
Earlier, Pakistan women's team opened their campaign with a 3-0 loss to India.
While talking to The Express Tribune a day before the match, team manager Qibtia Jamshaid said the girls were told to not focus on results, but only on giving their best in the tournament.
"I have seen their progress, their injuries, their recoveries, and we have told them that we are already proud of them. We just want them to give their 100% and winning is not a condition," Qibtia had said.
She had added that during the championship, one can see India being ahead of the pack as they have developed women's game over the years.
"When I look at the region, I see that the girls from all the countries have same built, height and there are lots of similarities, but then many of these teams have been preparing for a lot longer than Pakistan have gotten the opportunity to.
"We had a month while other teams have been training for more than a year and they are active. I feel with more time we can defeat India too in the future," she said, adding Pakistan can perform well against Maldives.
She added that she has received messages from across the country by different coaches and clubs saying that the team was better than what they expected. Meanwhile, she said that other nations in Nepal were warm to Pakistan and their performance against India as well.
"Other countries have been very supportive knowing that our girls have not played in eight years," she said.
COMMENTS
Comments are moderated and generally will be posted if they are on-topic and not abusive.
For more information, please see our Comments FAQ