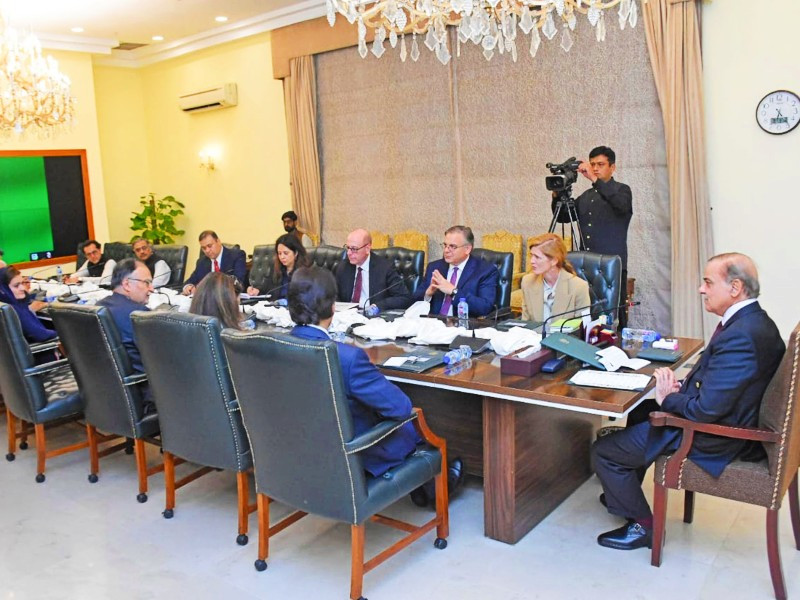 ---
Prime Minister Shehbaz Sharif on Friday stressed that owing to sheer magnitude and intensity of flood crises, Pakistan is "unable to meet the short-term or long-term challenges on its own".
He emphasised that continued international support, solidarity and assistance will be needed, seeking support of the United States in mobilising the international community to meet the flood emergency in the country.
The development came during a meeting with Administrator of United States Agency for International Development (USAID) Samantha Power who was on a two-day trip to Pakistan to assess the scale of the flood related disaster.
Ms. Samantha Power, Administrator of United States Agency for International Development (USAID), who is visiting Pakistan from 8-9 September to assess the scale of the flood related disaster, called on Prime Minister Muhammad Shehbaz Sharif today. pic.twitter.com/CxPMu9ovOc

— Prime Minister's Office (@PakPMO) September 9, 2022
PM Shehbaz thanked Power for the humanitarian relief assistance extended by the US in the wake of floods. He said that that the USAID official's visit at a time, when Pakistan is battling the immediate effects devastation by super floods is an expression of the "US government's solidarity with the people of Pakistan".
Read more: USAID pledges $20m in additional help for flood-hit Pakistan
He also apprised Samantha Power of the scale of destruction Pakistan has suffered – including death toll reached nearly 1,400; over 33 million people displaced; 4 million acres of crops destroyed; 800,000 livestock perished, entire villages and livelihoods swept away and infrastructure losses.
NEWS: The first US Military plane landed today in Sindh Province, much of which has been submerged in floodwater. Working hand in hand with Pakistan's authorities and @USAID, @DeptofDefense is building an airbridge to provide life-saving shelter: pic.twitter.com/b5MHi2zrHl

— Samantha Power (@PowerUSAID) September 8, 2022
"While the government is using all resources available for rescue and immediate relief operations, food insecurity and rehabilitation will be major challenges that will follow," he added.
Power expressed her condolences for those who had lost loved ones in the flood victims. She informed the prime minister that the USAID has enhanced the financial assistance by another $20 million, taking it to a total of $51 million.
She also vowed that the US administration remain engaged and "continue to support Pakistan in these difficult circumstances".
Also read: US to operate massive humanitarian air bridge for flood victims
Premier Shehbaz emphasised that Pakistan intends to pursue reconstruction in a climate resilient manner. "To achieve this end, Pakistan needs international expertise, technical assistance, funding and predictable climate financing."
He said that climate change is the common challenge of humanity, highlighting the need for collective effort.
Gen Bajwa meets Power
Samantha Power also called on Chief of Army Staff (COAS) General Qamar Javed Bajwa at the General Headquarters in Rawalpindi.
According to the Inter-Services Public Relations (ISPR), during the meeting, matters of mutual interest and collaboration in humanitarian measures were discussed.
She offered full support to the people of Pakistan, the military's media wing added. Power also appreciated the Pakistan Army's efforts for assisting civil administration and flood affected population in rescue and relief efforts in areas hit by recent floods.
The COAS thanked for the US support and reiterated that assistance from "our global partners will be vital in rescue and rehabilitation of the victims".
COMMENTS
Comments are moderated and generally will be posted if they are on-topic and not abusive.
For more information, please see our Comments FAQ