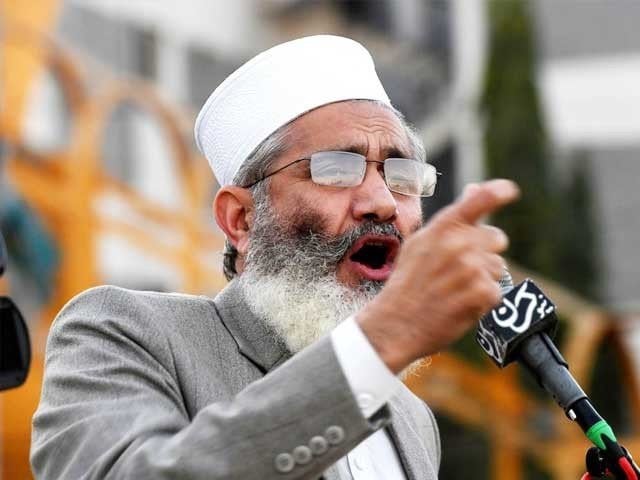 ---
KARACHI:
Jamaat-e-Islami Ameer Sirajul Haq has demanded that the rulers should give cash hangouts to the flood victims because they own huge assets. "It is the job of the opposition, not the government, to stage rallies," Haq said while talking to media representatives at the central flood relief camp in Idarah Noor-e-Haq after visiting the relief camp in Malir district on Tuesday.
"The government should help the flood victims instead of staging rallies and indulging in politics," he said. "The PML-N has a coalition government at the Centre, while the Pakistan Peoples Party rules Sindh and the PTI has its governments in Khyber-Pakhtunkhwa and Punjab," he added.
These three parties have all the government resources at their disposal, while at the same time foreign aid is also flowing in but all these ruling parties are engaged in politicking instead of helping the flood victims, Haq said.
The Jamaat-e-Islami Ameer said that floodwater is extremely harmful for human consumption and there is a dire need to provide clean drinking water in the flood-affected areas, where water-borne diseases are also spreading like wildfire.
"The whole nation has woken up to help the flood victims but the government is sleeping," he regretted while demanding that the government instead of distributing foreign aid on political grounds, should form committees at the tehsil and district levels in which civil society should also be given representation.
The rulers had embezzled funds in the aftermath of natural calamities in the past, such as the 2005 earthquake and the 2010 floods, he said and added that he hoped the past would not be repeated this time around.
He lamented that the report and recommendations of the commission formed after the 2010 floods were also not implemented. "Had corrective measures been taken, the situation would not have been so dire today," he said while urging the government to take steps for resettlement of the displaced people.
Haq said that 16,000 volunteers of Al-Khidmat are engaged in relief operations round the clock while another 35,000 volunteers have participated in social services for the flood victims until now. He said that Jamaat-e-Islami has set up over 4,000 camps across the country, including 150 in Karachi, to collect donations for the flood victims. He said that Al-Khidmat volunteers have risked their lives to rescue victims.
The Jamaat-e-Islami Ameer met with flood victims from Qambar-Shahdadkot at the Malir camp and enquired about their condition while also reviewing facilities provided by Al-Khidmat, including cooked food, medicines and accommodation. On the occasion, 24 truckloads of relief goods were also dispatched to the affected areas.
Published in The Express Tribune, September 7th, 2022.
COMMENTS
Comments are moderated and generally will be posted if they are on-topic and not abusive.
For more information, please see our Comments FAQ