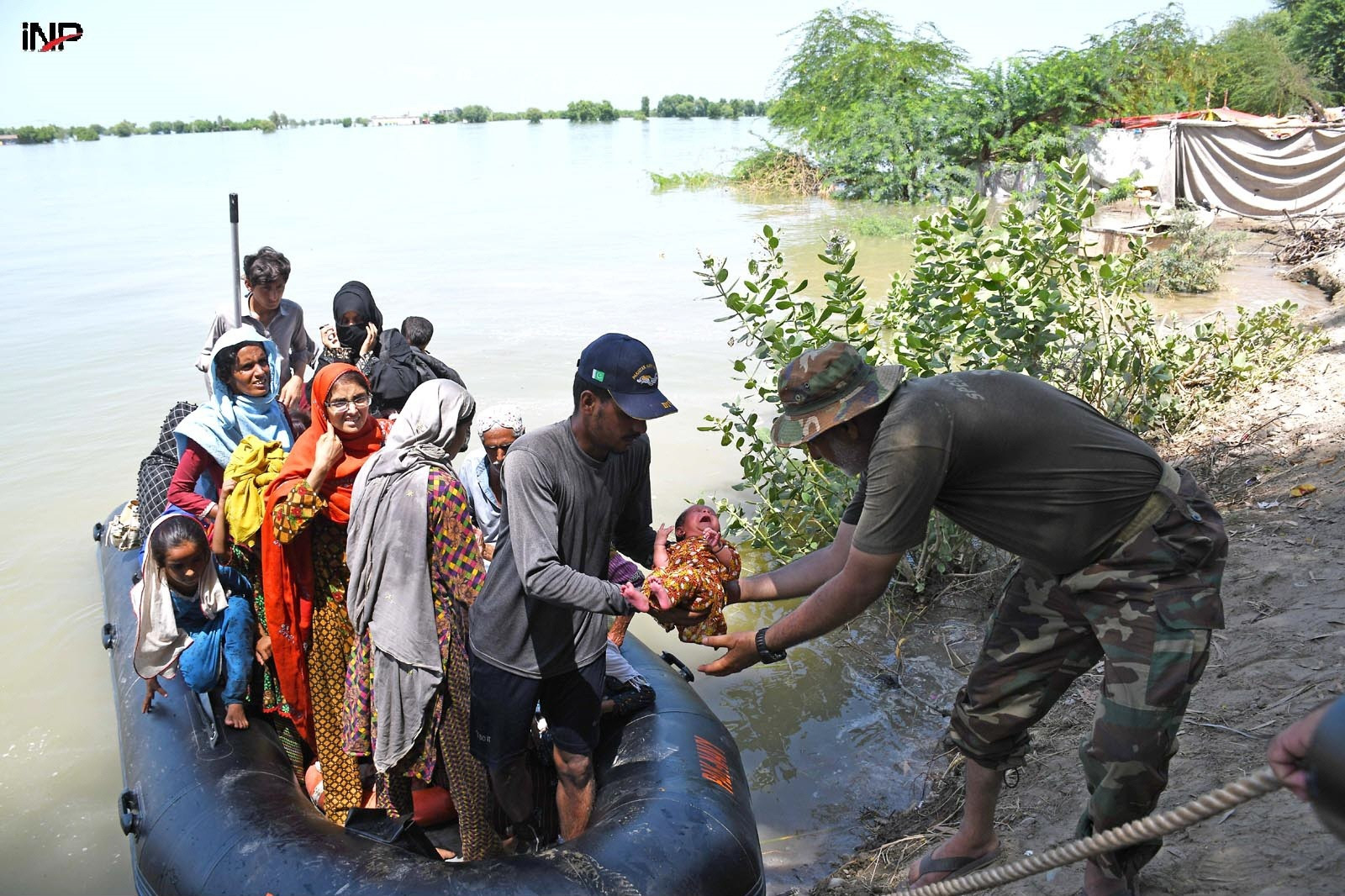 ---
RAWALPINDI:
Director General Inter-Services Public Relations (DG ISPR) Major General Babar Iftikhar on Saturday said the nation was generously contributing to the Army Flood Relief Fund as Rs417 million was collected in it so far for the flood victims while Rs44 million was collected during the last 24 hours.
Addressing a joint media briefing along with Federal Minister for Planning Ahsan Iqbal, NDMA Chairman Lieutenant General Akhter Nawaz and National Coordinator National Flood Response and Coordination Centre (NFRCC), the ISPR DG briefed the media on the relief and rescue activities of Pakistan Army in the flood-affected areas.
Babar said since the beginning of the crisis caused by the recent monsoon rains, the armed forces were working day and night in the affected areas for the last two months to help their brothers and sisters.
"Every soldier and officer of Pakistan Army is trying to reduce the problems of the people by considering it as a sacred obligation rather than a duty," he said.
He continued, "This was the spirit under which Lieutenant General Sarfraz Ali, Major General Amjad Hanif, Brigadier Muhammad Khalid, Major Saeed Ahmed, Major Muhammad Talha Manan and Naik Mudassar Fayyaz helped their flood-affected brothers and sisters in Lasbela (Winder) area of Balochistan last month and embraced martyrdom in a helicopter accident during the relief activities."
According to army chief Gen Qamar Javed Bajwa's instructions, he said the armed forces would not leave the people alone in this difficult time, "no matter how much time and effort it takes".
At the army level, he informed that the Army Flood Relief Coordination Centre was established under the leadership of Commander Army Air Defence Command who was also performing the duties of National Coordinator of National Flood Response and Coordination Centre.
"Under the RRR Strategy ie Relief, Rescue & Rehabilitation, Pakistan Army is serving under a comprehensive strategy along with civil administration, disaster management authority and other welfare institutions."
Babar said the army chief had made detailed visits to the flood-affected areas of Sindh, Balochistan, Khyber-Pakhtunkhwa (K-P) and Punjab and reviewed the ongoing relief operations on ground.
However, all formations and senior commanders of Pakistan Army were present in the flood-affected areas and were engaged in relief operations, he added.
The helicopters of Pakistan Army Aviation were continuously engaged in rescue and relief activities in the affected areas, he said, adding, "So far 276 helicopter sorties have been operated in different areas. Despite the bad weather and other challenges, pilots of Pakistan Army Aviation risked their lives not only to rescue people but also ensured the availability of essential relief items to them."
Addressing the media persons, Ahsan Iqbal said, "This is not a calamity one can cope with alone." He highlighted that it rained 1,500mm in areas where the average used to be 20-30mm.
The minister said that South Punjab, Dir, Nowshera and Charsadda were badly affected by floods, adding that more than one million houses and around 5,000km of roads had been damaged.
He said that a few days ago, 14 major highways connecting the country's main logistics hubs were cut off. "Pakistan's armed forces and other institutions jointly restored the highways in these areas whereas the remaining ones will be restored in the coming days."
Iqbal said that the drainage is slow in Sindh and thousands of acres of land bore the look of a sea.
He mentioned that 230 deaths occurred in Sindh while 54 deaths were reported in the Dera Ghazi Khan Division of Punjab. "Work is under way for rapid recovery of Punjab as well."
The minister said 15 days ago, 81 grid stations were submerged, of which 69 had been restored.
He mentioned that out of 881 feeders, 758 had been restored and work was under way on 123 of them. About 3,500 cellular towers were affected, of which 600 are yet to be restored, he said, adding that Prime Minister Shehbaz Sharif issued directions for their restoration as well.
COMMENTS
Comments are moderated and generally will be posted if they are on-topic and not abusive.
For more information, please see our Comments FAQ