 ---
A rickshaw driver named Gulshir Macchi lured a young girl with the promise of ration in Shadadpur in Sindh's Sanghar district. The Hindu girl, a flood victim, was said to have been drugged and held hostage for two days by the culprit who also raped her.
Police have arrested the accused and also filed an FIR against him. A series of medical tests are being performed to obtain a better understanding of the girl's condition.
Many took to social media and expressed shock and anger over the recent rape case. Ayesha Omar, too, took to Instagram and shared her two cents. "And now, this is happening," the Bulbulay star wrote while sharing an article of the same. "Is there any end to the shamelessness? Just abuse, steal, loot, violate, torture and suppress. On every level. I don't even know what to feel. Or what to think."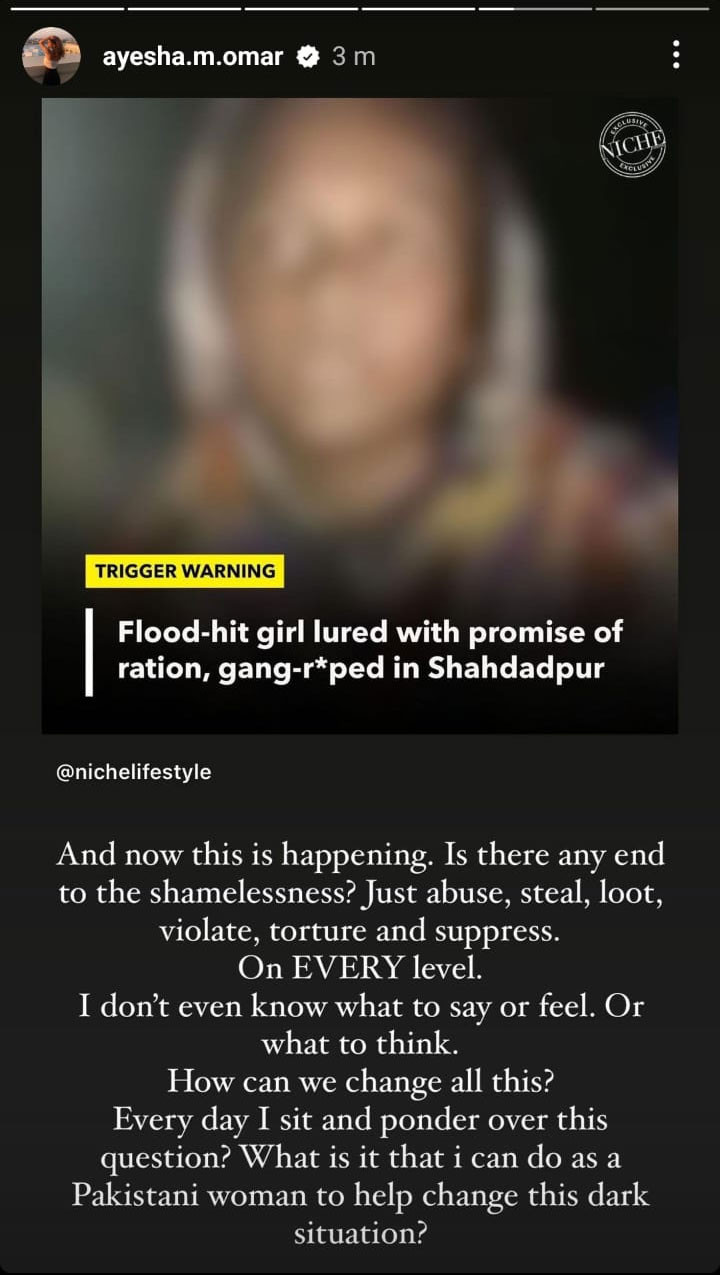 She went on to comment, "How can we change all this? Every day, I sit and ponder over this question. What is it that I as a Pakistani woman can do to change this dark situation?"
As relief efforts for flood victims take centre stage the go-to items being asked for include tents and dry groceries but many seemed to have missed that women are victims as well.
Young girls and women have been equally devastated by the floods and are being forced to live under the open sky but their present list of needs also includes feminine hygiene products and toilets, which are not part of the conversation about relief items.
COMMENTS
Comments are moderated and generally will be posted if they are on-topic and not abusive.
For more information, please see our Comments FAQ