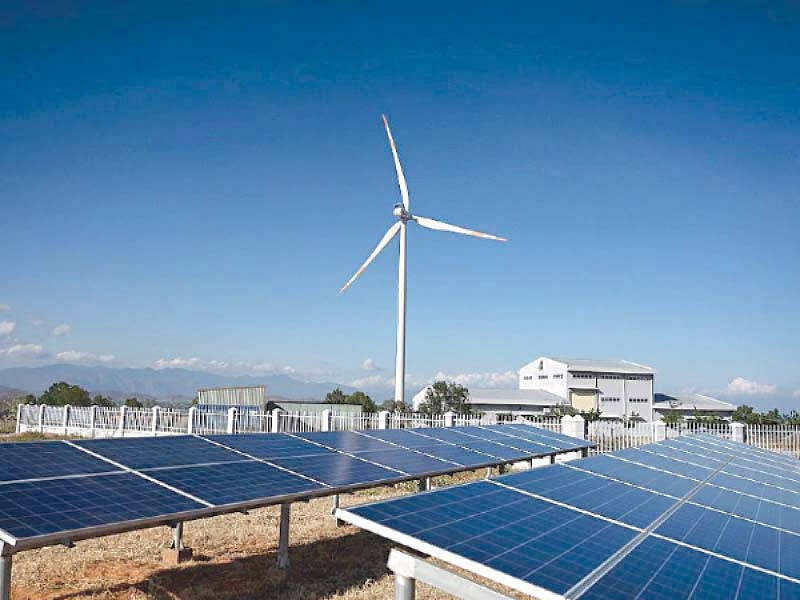 ---
KARACHI:
The private sector on Thursday announced their decision to set up Pakistan's first ever one-gigawatt wind-solar hybrid power plant with the aim to counter the expensive power and climate crises in Pakistan.
"We are setting up the first private sector run power plant outside of the government's ambit," Engro Energy CEO Yusuf Siddiqui said while speaking at the Annual State of Renewables Conference 2022 organised by the Sustainable Development Policy Institute (SDPI) and Unilever.
"The one-gigawatt hybrid power plant (including thermal) will start producing 500 MW in the first phase by the end of 2024 and the remaining 500 MW will start production in 2025, at Jhampir, Sindh."
Siddiqui explained that this was going to be the first plant in Pakistan being set up without having acquired a fixed rate of return from the government. "The company will produce power on its own and sell it to the private sector. This is what is happening in the US and Europe," he said.
Thermal electricity, which has the largest share in power generation in Pakistan, also bears exorbitant fuel costs. As global powers wrestle with fragile fuel supply chains and disrupted economies, aggravated further by the Russia-Ukraine conflict, Pakistan's reliance on expensive imported fuels like furnace oil, diesel, coal and RLNG is no longer feasible; financially or in light of climate change.
Hybrid power plants, integrated through solar and wind power generation, harness the full potential of clean, renewable energy and provide a more reliable solution to Pakistan's "power affordability" issue.
"At present, government is the sole purchaser of power nationwide. The plants operating on the government's guarantee (rate of return) are mounting up capacity payments (fixed cost) and circular debt in the country," he said.
Pakistan Business Council (PBC) CEO Ehsan Malik observed that the expensive use of energy was creating circular debt, impacting the government's fiscal capacity and as a whole hurting the environment, trade and employment in Pakistan.
"The government did not address some fundamental flaws when it raised the power tariff. The industry cannot be left a hostage to inefficiencies," he remarked.
Speaking to the audience Malik asked if anyone had seen a publicity campaign encouraging energy conservation, he claimed "5% energy conservation can save $3 billion in import bill."
Alternate Energy Development Board (AEDB) CEO Shah Jahan Mirza said the government is set to announce a special scheme to establish solar parks and promote renewable energy next month. They aim to install solar plants of 6,000 megawatt in the parks, he said.
Initially, the government planned to set up 2,400 MW solar project. "We have proposed an exemption of taxes and duties on the import of solar equipment," he said.
The total installed capacity of solar and wind is 600 MW and 1985 MW respectively in July 2022. Accordingly, the share of renewable energy stands at 5% in the energy mix at present.
The government aims to increase the share of renewable energy, including large hydros, to 60% by 2030.
"Sindh is rich in wind and solar resources and carries high potential to produce renewable energy," said Abu Bakar Ahmed, Secretary of the Sindh Government Energy Department.
He said the Sindh government is facilitating foreign investors to set up a garbage-run 200 MW power plant in the province. "Half (100MW) of the planned production from garbage would come into the system within one year," he explained.
Former Finance Minister, Dr Shamshad Akhtar criticised global greenhouse gas emitters for impacting the climate in vulnerable countries and for their insufficient financial cooperation in the fight against global warming.
"The world requires $7-14 billion annually to mitigate the risk of climate change, which is well beyond financial constraints," she maintained.
In his address, SDPI Executive Director Dr Abid Qaiyum Suleri said the heavy rainfall and flash floods are a manifestation of climate change.
"Renewable energy mix can play a crucial role in emission reduction to mitigate these disastrous climatic impacts," he said.­­
Published in The Express Tribune, September 2nd, 2022.
Like Business on Facebook, follow @TribuneBiz on Twitter to stay informed and join in the conversation.
COMMENTS
Comments are moderated and generally will be posted if they are on-topic and not abusive.
For more information, please see our Comments FAQ