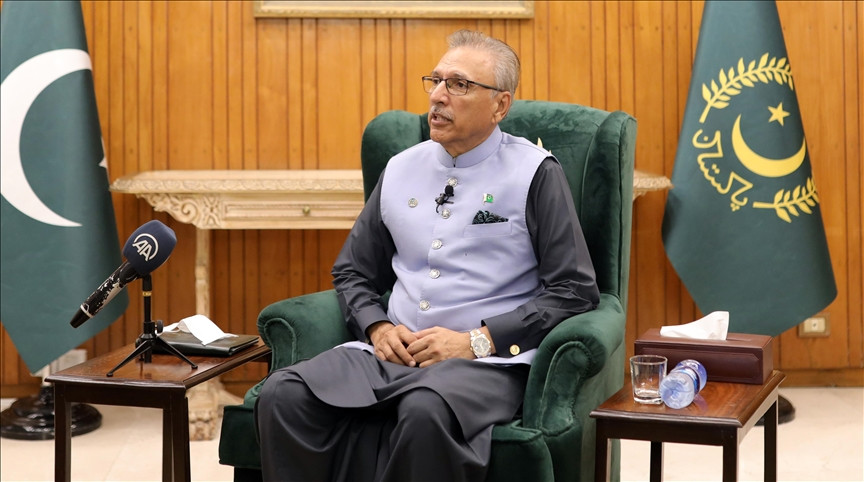 ---
President Arif Alvi said that his country does not want to be a toy in anyone's hands as Pakistan is an independent country.
In an exclusive interview with Anadolu Agency, Alvi said that Islamabad wants good relations with everyone as the world is going through economic turmoil.
"Pakistan is not looking for any polarisation and does not want to be in any camp," he said.
On Turkish President Recep Tayyip Erdogan's visit to Pakistan expected in September, Alvi said Islamabad will welcome him.
"Turkiye has a very deep, long-lasting relationship. In real terms of the Muslim ummah, it extends 1,400 years, but in terms of statehood, since Pakistan came into being, that relationship is there in terms of people," he said.
Anadolu Agency spoke to Alvi about various issues, including international relations, political crisis and devastating floods in Pakistan, the problems in Afghanistan and ties with India.
This interview has been edited for length and clarity.
Anadolu Agency: How do you see Turkish President Recep Tayyip Erdogan's visit to Pakistan? Are there areas in relations that need improvement?
President Arif Alvi: We will welcome his Excellency President Mr. Recep Tayyip Erdogan's visit to Pakistan. Pakistan and Turkiye have a very deep, long-lasting relationship. in real terms of the Muslim Ummah, it extends 1400 years, but in terms of statehood, since Pakistan came into being that relationship is there in terms of people, there have been relationships in the middle of the 19th century.
Read more: Alvi overrules federal ombudsman's decision
In the 1880s, when Turkiye went through the Russian war and earthquakes etc., Muslims in Pakistan also generated funds and sent people to fight along with the Turkish people in different wars. So, there is a deep understanding and deep relationships, irrespective of who comes into power, between the two countries.
Whenever I met Turkish people, when I was the president or even before the presidency, over the years when I used to visit Turkiye, it was always very impressive. It was very surprising that on the streets of Istanbul, the streets of other cities in Turkiye, there was love, brimming love, as soon as somebody identified himself as a Pakistani. I have seen Turkish taxi drivers not taking the fare from me, insisting this is brotherhood. So, this friendship is very deep, and therefore it is always expressed in very real terms by the presidents and the prime ministers of Pakistan and Turkiye.
So we would welcome Mr. Erdogan to Pakistan. The fact that countries cooperate more and more -- it is getting very important today because the world is changing. The world is in flux and, therefore, those friends who have been together, need to recement those ties, need to look at the world in the new era in a new way. All of us are surprised by the war in Ukraine, for example. And we want peace and Mr. Erdogan's role as far as peace is concerned and the prime minister of Pakistan's role in looking for peace. I think all these things are important. Further cementing of relationships and mutual investments that's what we should be looking for. The strategic understanding of what is happening around Turkiye, as well as around Pakistan, is important. The fact that the thinking of the Muslim ummah should be together. That will always be on the agenda. The fact that our ties are demonstrated to become closer is important for the people of Pakistan and Turkiye.
Q: How do you evaluate Pakistan's relations with the US, China and Russia? Will there be oil and grain purchases from Russia?
ALVI: This is for the government to decide. The presidency does not carry opinions. Pakistan is looking for good relationships with our long-term friends, which is the United States of America. And similarly, we want to continue and further establish our ties with China.
Pakistan doesn't want to be a toy in anybody's hands. Pakistan is an independent country. Pakistan wants good relations with everybody, particularly at the time when we are going through economic turmoil (and) the world is going through economic turmoil. Turkiye is going through economic turmoil.
We are going through economic turmoil – the flux of capitalism and free trade. We don't know how the rules are going to be modified in the future and whether future blocs are going to divide the world or look forward to uniting the world because we've gone through the Cold War. We've seen the Cold War happen. We've seen the doctrine of Mutually Assured Destruction happen when trillions of dollars of the hard-earned money of the citizens of the world and the superpowers went only into developing weaponry. And that confrontation, just in the last 10 years, has been reduced, and we will hope that future understandings between new blocs emerge. New blocs of power should be developed, and more understanding of positions and adjustment regarding positions, because it is for the good of the world with increasing climate change.
Also read: PTI funding probe: President Alvi among others received funds from 'fake accounts'
With so much rain in Pakistan, devastation, also with droughts in some areas of the world, more and more cooperation between all countries of the world is needed.
So, Pakistan is not looking for any polarisation, and Pakistan does not want to be in any camp. Pakistan wants peace in the world and friendship. And these are long-term friends of ours. The United States has been a friend since the 50s and 60s and 70s, 80s and 90s. We've been very strong friends. And with China, also since the 60s foreword, Pakistan has been good friends. So once a friend, no nobody expects to be sacrificed for another friend, that does not happen in our culture. And nobody expects that. So we are improving relationships with the United States. As you mentioned, we are doing that and our relationship with China is improving.
Of course, the relationship with Turkiye is improving. So Pakistan is in a position where it expects peace in the world. Our role should be peaceful, our role should be looking for peace in Afghanistan because that is so essential for a relationship and movement of goods between the Central Asian states and to the sea. So, that is the route to economic prosperity.
Pakistan and all these powers which I've mentioned have been looking for peace in Afghanistan.
Q: Pakistan and China have strong relations and also Beijing has big investments like CPEC (China-Pakistan Economic Corridor). However, some experts argue that China may conduct debt-trap diplomacy against Pakistan. How do you see this situation?
ALVI: We are very close friends with China. I don't see. In fact, we've had a China-Pakistan Economic Corridor partnership which is very important to our economic interest. Pakistan has a huge youth bulge. And the world is interested, not only China, the world is interested in using our youth in the IT sector and other sectors.
There's a sheer dearth of human resources as far as the IT sector of the world is concerned. There is more data available in the world and individuals to analyse that data (are needed). So therefore, our cooperation with China in all sectors started with the energy situation, then poverty alleviation, and job creation. Of course, the China-Pakistan Economic Corridor is for the movement of their goods through Pakistan, which is easier than taking their goods from the westernmost provinces to the sea, near Beijing or other ports. Our cooperation with China has been very positive. And I think that will continue.
Q: Regarding relations with India, do you have any hope that both neighbours could move toward peace?
ALVI: I think Pakistan has been looking for peace. But whether India is looking for peace, I'm not sure. Because all our overtures have been put under a question mark, I believe that India's actions in Indian Occupied Jammu and Kashmir (IIOJK) were a serious setback to peace. There are demographic changes that are happening in IIOJK, whereby they are trying to change the polity and the public demography of IIOJK, (it) is a very painful venture for the people of IIOJK and also it goes against the initial Indian decision of giving it a special status.
We don't believe in a special status. We believe that IIOJK (issue) should be settled according to the United Nations resolutions. Pakistan believed in that settlement. India took the matter to the United Nations, otherwise, IIOJK would have been a part of Pakistan. And Pakistan respected the new emerging world, united organisations, but Pakistan has been disappointed. Anyhow, mentioning that India has not left any stone unturned as far as IIOJK is concerned -- this is a major bone of disagreement between our countries.
At the same time, we are also concerned about the onslaught on Indian Muslims by the (ruling) BJP (party) thinking and I think the Muslim world is concerned about it -- the way Muslims are being isolated in India.
That's a painful thing for us and a painful thing for Turkiye also, and for all countries of the Muslim world. We want minorities to be able to live in peace. You see, when minorities are surrounded or beaten or raped, or persecuted, their voices are suppressed, so it creates unrest.
Now, Pakistan is concerned more than other countries because we are neighbours. Anything happening in India, they tend to take the easy path and blame Pakistan.
Pakistan has nothing to do with it. Pakistan, in fact, condemns Gujrat riots. In fact, Pakistan is a voice for all Muslims in the world. Like Turkiye itself raised the voice of Muslims and it has an important role in the Organisation of Islamic countries.
So, I believe we want peace with India. There is no question about it, but India should make a move toward peace. Saying that IIOJK cannot be discussed because it is a bilateral matter -- they are violating the United Nations resolutions. So that's not an overture for peace but Pakistan wants peace.
Q: In 1996, Pakistan was one of the countries that recognised the Taliban regime in Afghanistan. During the previous government of Imran Khan, Islamabad was very actively involved in resolving issues between the new Taliban government and the world community but currently, it seems that interest declined. What are the reasons?
ALVI: I disagree with this notion. The policies of the previous government of Mr. Imran Khan are very similar to the policies of the current government, as far as Afghanistan is concerned.
Why do I say that? Because the previous government also wanted that. It should be a broader framework of government, including other factions which are in Afghanistan.
So, Pakistan wants peace in Afghanistan. Pakistan wants peace desperately because it is related to our economy as well. If there's peace in Afghanistan, Pakistan takes a major part in helping with the reconstruction of Afghanistan.
Today, Turkiye is hosting more than 3.5 million refugees from Syria. And you understand that Pakistan has hosted 4 million refugees for 40 years. We opened our hearts to people who need refuge. But the West has been very protective, although I welcome the fact that Ukrainian refugees are being welcomed. But there seem to be double standards but Pakistan and Turkiye have sacrificed on the human level tremendously.
So, Pakistan has done its part for brotherly relations with Afghanistan and I believe in the new government in Afghanistan. Pakistan's advice to them continues in the same manner… make it broader and improve the education of women because the world is focused on a few things like that.
Q: Currently, we are observing that the political crisis is growing in Pakistan as even the government filed sedition cases against political leaders and even a terrorism case against former prime minister Imran Khan. For how long will this situation continue?
ALVI: I think at times, political polarisation becomes extreme. And from your history, you will remember that in the 70s and 80s, political polarisation was extreme and I remember my friends studying in Turkiye, and the schools and colleges were closed down for 6-7 months.
So my role is to try to reduce this political polarisation. It is a democracy – Pakistan is a democracy and Pakistan is gradually becoming a strong democracy. We are going through these trials and tribulations which are happening. I believe that the polarisation needs my comments less because I do not want to add to that polarisation. If anything I can do, I would like things to become more peaceful. Of course, such actions which invite other countries in the United Nations to speak regarding what is happening in Pakistan should be avoided.
Pakistan prides itself on having, I think, 60 or 70 channels. Pakistan has prided itself on having free media but sometimes some actions of governments create a situation where the media gets afraid of reporting the truth and the right things. So, I believe progress needs to be made in that sector. So that the media is careful of what they say. And at the same time, the government is not prompted to take action, which is then disliked by our media personnel and the world press.
Q: Journalists in Pakistan are currently targeted. Despite your directives to the government, actions against media outlets and journalists still continue. Why is the government targeting dissenting voices?
ALVI: I think the media needs to be able to give us free expression. And I think the media is also responsible. Sometimes -- I make certain statements and the media modifies -- it catches my words rather than my meaning. But that is something which is a continuous battle with the media.
You see the way international media expresses its biases. I expect the media to continue with their biases. The entire western media is Western-oriented. The entire eastern media is Eastern-oriented. They don't understand each other's biases and problems and they look at the world's problems through the same lens.
Q: You have warned against the military being the subject of discussions. What does the military establishment mean for Pakistan?
ALVI: The Constitution of Pakistan is very clear on a few things. The Constitution of Pakistan says … you should not criticise the judiciary because the judiciary can come under pressure for example, and you should not criticise our armed forces.
Why? Because they have a disciplined system. The (armed) forces are responsible for protecting Pakistan, for ensuring the fact that they do a tremendous job by handling terrorism in Pakistan.
You imagine Afghanistan right up to Syria, to Algeria. Imagine Libya to Yemen. Everything has collapsed because of terrorism. But it was the Pakistan Army and the people of Pakistan which fought a valiant battle and defeated terrorism. We suffered partly but it did not affect Pakistan.
So, there was a tremendous contribution of the army.
Social media is a big media. You see, some of our leaders have a following of 17.5 and 20 million people. I joined Twitter in 2007 and I've been active and I've been telling people that this is a very strange phenomenon. This is a phenomenon that the new world is only trying to understand.
Can you imagine that sometimes when leadership doesn't understand this phenomenon? We, the judiciary, banned YouTube in Pakistan for two years. What a loss because they could not understand this medium.
If it comes to criticism, there could be people sitting outside Pakistan criticising you. So if you block it because of criticism, only 10% may be critical but 90% is a flow of information. So you block all that, too.
Similarly, there is too much sensitivity in the world today on social media – very sensitive. And imagine a following of 20 million and there will be hundreds of thousands of people – nobody controls them.
When I used to work in politics and you have political movements – I remember I had 60 people doing a protest and we wanted it to be peaceful. And we went into a government office and this gentleman pulled the glass door with such strength that it broke and it became an issue on which a case was registered against me. And for two years, I went to the courts to fight that case. But if 60 people I could not manage then, how can you manage social media? So, I think there's extra sensitivity of our older generation.
Q: Currently, Pakistan is facing devastating floods that have caused huge damage to public and private properties, including human casualties. What is your message to the international community?
ALVI: I was reading the cabinet minutes held recently. And I agree with the stance taken by the prime minister that there is so much structural damage that Pakistan should be looking for international help because the climate change situation will be affecting a lot of countries.
And in Pakistan, you see, a lot of things are happening on the economic side. You know, like Turkiye, Pakistan is under economic pressure.
What happened in Ukraine reduced the lines of communication, so trade has been disrupted.
Pakistan did tremendous work with Covid, battled Covid very well and compared to India, where hundreds of thousands of people died, Pakistan did not suffer as many casualties.
So, Pakistan came well out of Covid, but the international supply chains were still down and Pakistan suffered.
The problem was then the war in Ukraine cued international politics in a manner where countries who do not have very great depth in their economies … suffered more. And that is what Pakistan is going through.
So, during this period, I believe we should be also welcoming international help to solve this problem.
Now you see rain devastation. International bodies should look at cooperation with Pakistan in restoring the infrastructure very quickly, and providing relief to thousands of people who have suffered.