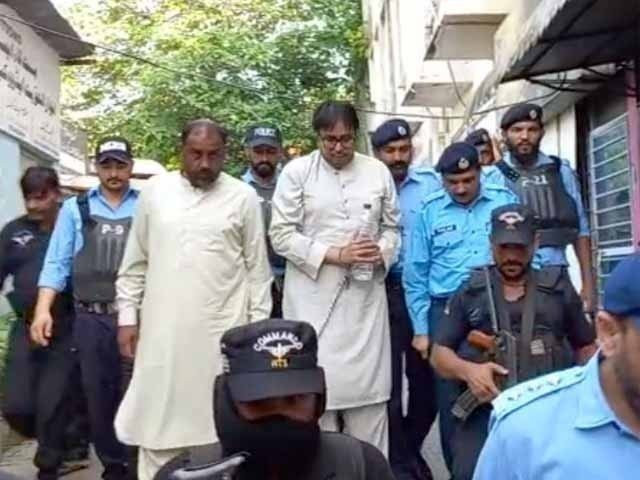 ---
ISLAMABAD:
A District and Sessions court of Islamabad on Tuesday rejected incarcerated PTI leader Shahbaz Gill's bail plea in a sedition case stating that his statement was "sufficient for disturbing harmony and discipline" in the Pakistan Army.
A day earlier, Additional Sessions Judge Zafar Iqbal had reserved the verdict after the court heard arguments of all involved parties.
Gill was arrested on August 9, after registration of a sedition case at the Kohsar police station of the federal capital over his controversial remarks against the military during a programme on a private TV channel.
He was produced before the judicial magistrate the next day and was remanded in police custody till August 12. The police requested the magistrate to extend the remand order, however, he was sent to judicial lockup.
Gill had applied for post-arrest bail on August 25 which was rejected on Tuesday.
In a detailed order, the court said that Gill's statement was "sufficient to disturb harmony and discipline" in the Pakistan Army.
Read Islamabad police recover pistol, satellite phone during raid at Gill's apartment
"Accused is a leader of a national level of a popular party and he has not made the statement in [an] indoor meeting. [The] statement of the accused is sensational which is sufficient for disturbing harmony and discipline in the most respected institution of Pakistan i.e. Pakistan Army," the order said.
"Opinion expressed by the accused is not in public interest and integrity of the country. Law does not provide that an accused shall become invariably entitled to grant of bail in every case," it added.
According to the detailed order, Gill's counsel had also offered an apology for offending [the armed forces].
The PTI leader had also accepted the transcript of the programme, according to the prosecutor.
It was said that the accused had prima facie committed crime under Section 131, which was a non-bailable offence and that there was solid evidence on record against him.