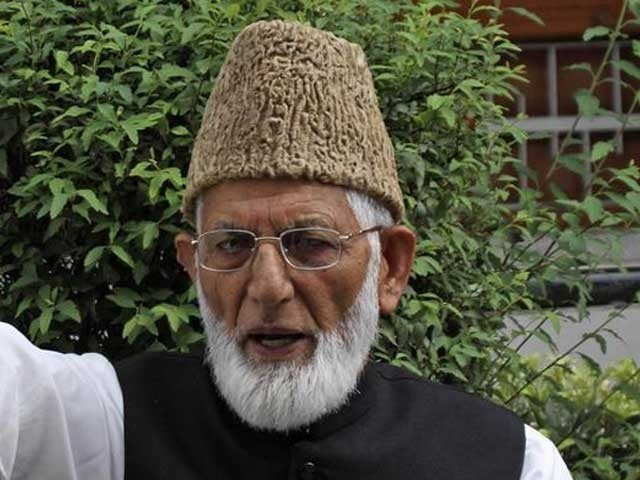 ---
ISLAMABAD:
Senior Kashmiri leader and Chairman Jammu and Kashmir Salvation Movement (JKSM) Altaf Ahmad Bhat paid rich tributes to late Baba-e-Hurriyat Syed Ali Shah Geelani ahead of his first death anniversary to be observed on September 1 (Thursday), saying his services for Kashmir freedom movement will be written in golden words.
Remembering Geelani for his matchless services, Bhat said that despite his old age and deteriorating health conditions, he moved forward and led the freedom movement.
Paying glowing tributes to late Kashmiri leader for his selfless services and litany work, Bhat said that despites continuous detention and curbs, he penned down dozens of books related to Kashmir freedom movement.
Indian occupation forces and puppet regime tried their hard to cow down his spirits but despite all odds he led freedom movement with full power and spirit, he added.
Also read: Pakistan to observe mourning day over demise of Kashmiri leader Syed Ali Geelani
Bhat said the veteran Hurriyat leader's unparalleled perseverance for freedom mission is praiseworthy, adding that the late leader was constantly kept under forced detention. "Despite his ailing health he was detained and denied proper treatment."
Altaf Ahmad Bhat said that Geelani was very popular among people and even freedom fighters had bequeathed before their martyrdom that Syed Ali Geelani shall offer their funeral prayers. He was a writer and author par excellence and had penned down dozens of books including "Wular Kinarey" and "Iqbal Rooh-e-Deen Ka Shanasa".
Bhat reiterated his commitment to fulfil the mission left behind by the Baba-e-Hurriyat and said that the younger generation should follow his footsteps and mission, because late Syed Ali Geelani will continue to be an icon and ideologue for Kashmir freedom movement. He in his fervent appeal to people of Jammu and Kashmir asked to pay homage and tributes to the late leader.