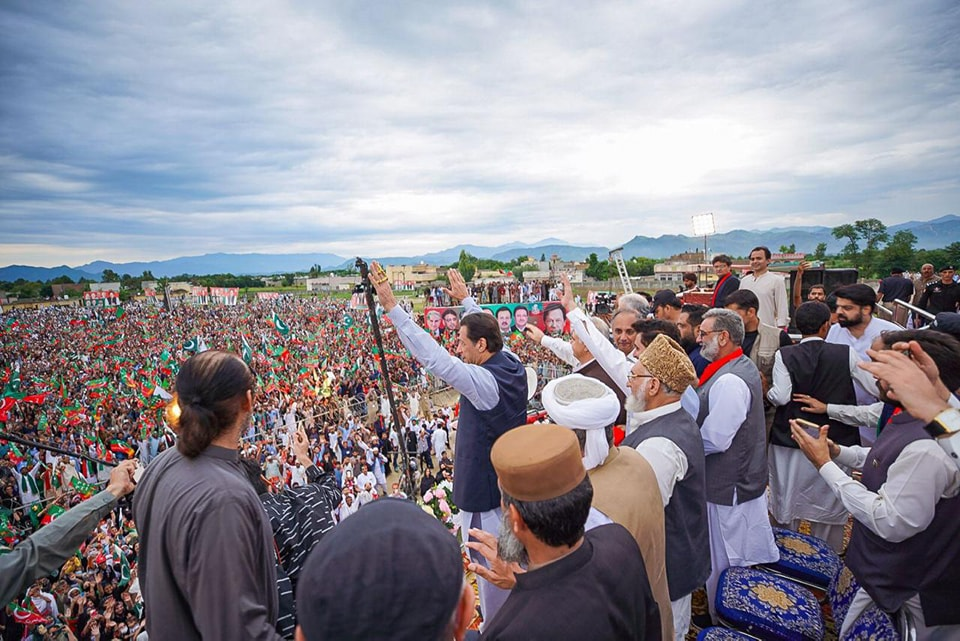 ---
HARIPUR:
Pakistan Tehreek-e-Insaf chief Imran Khan on Wednesday heaped vitriol on Prime Minister Shehbaz Sharif who, according to him, had gone to Qatar Walong with 40 other thieves for begging", deploring that as unsparing floods continued snuffing out lives in the country, the premier was roaming around with a "begging bowl" instead of helping the people.
"No one will give them money as everyone knows that they [incumbent rulers] are thieves. We have to set Pakistan free from the slavery of these thieves," he declared while addressing a rally in Haripur, Khyber-Pakhtunkhwa (K-P).
The former prime minister's statement comes against the backdrop of PM Shehbaz's visit to Qatar in the hope of generating trade and investment for the country amid debilitating economic woes.
Lacing in the "imported government" for hitting the panic button in the face of growing resistance, Imran said that the ruling coalition has ended up defaming Pakistan outside the country by registering a case under terrorism charges and putting political workers behind the bars.
He said that the Indian government never makes a decision where it sacrifices the lives of its citizens for someone else. "We lost lives of 80,000 Pakistanis for participating in the American war... We will not sacrifice our people for any country for the sake of our foreign policy."
The PTI chief said that when his government tried to buy cheap oil from Russia, they were removed from power via a conspiracy and an "imported government" was imposed upon the nation.
'Gill sexually assaulted'
"The nation will never accept them and I will stand for the rights of my nation," he asserted.
The ousted premier said that PTI leader Shahbaz Gill left his job in the US and came to Pakistan but he was sent to jail after his statements were interpreted as anti-military.
Read Qatar Investment Authority aims to invest $3 billion in Pakistan
He admitted that the matter should have landed in the courts and Gill should've been in the dock for a legal proceeding. However, he regretted how the case was mishandled.
Imran further questioned under which law was this being carried out and in which other country this kind of torture is meted out to political workers. "This is how terrorists are treated, not political workers. It has been proved in the court that he has been subjected to custodial torture."
'Not against institutions'
Continuing in the same vein, the former prime minister reiterated that the PTI was not against institutions. "We have only one demand and that is to conduct free and transparent elections in the country."
He further said that he is preparing people from all over the country to protest, urging everyone to wait for his call.
Speaking about the terrorism charges registered against him, Imran questioned the rationale for turning him into a "terrorist" and filing cases against him no less than for "terrorism".
"I only said three things: those who committed this atrocity will not be spared; that we will take legal action and not beat with a stick; thirdly, that they should be ashamed of attacking a person who left the comforts of everything to serve the country," Imran said while explaining his statements from Saturday's rally that landed him in trouble.
"The imported government has planned to arrest me as if I were a major terrorist," he quipped.
COMMENTS
Comments are moderated and generally will be posted if they are on-topic and not abusive.
For more information, please see our Comments FAQ